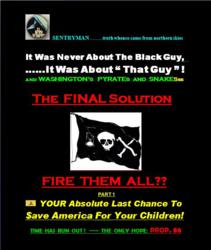 PROP. 86....YOUR Absolute Last Chance To $ave America For Your Children!..
Gun Barrel City, TX (PRWEB) June 14, 2011
This (Sentryman) is irreverent and droll, clever, bombastic and sometimes off-the-wall funny, yet humility is also a strong force in his arsenal. These quick, sharp vignettes in this summer read are more like perusing a personal journal, candid conversations with himself playing all the parts, including Devil's advocate and Grand Inquisitor, with a different take on everything; he takes no prisoners. One can quickly read a chapter and bookmark; pick back up and you're discussing something entirely different with him on a wide variety of issues; he dispenses grandfatherly wisdom, tips, quips and some surprisingly intuitive practical advice at the drop of a past participle.
This newly updated nonfiction book with extra chapters seeks to end U.S. Government Red Tape with a Patriot's Proposition 86. It Was Never About The Black Guy, It Was About "That Guy"! And Washington's Pyrates and Snakesss. The Final Solution – Fire Them All??, by Everi Mann (Sentryman) is now available.
An interesting fact about this volatile underground book with few reviews, perhaps in short supply somewhere, it demands prices in excess of full retail for some "used copies", as well as for "new" by some vendors around the globe. By an undisclosed reviewer.
Sentryman clearly states that he wants this book to start a revolution, "A bloodless insurrection, a citizen's uprising within a Constitution fewer politicians embrace today, with the same ferocity and passion to act out Finch's plea in "Network"; "we're just not going to take it anymore"! No passion play and deadly serious, this time the people will win with an old secret weapon: Prop 86, to eighty-six the government to take-back our country for all Americans; no matter your political persuasion, it's easy, cheap and painless," states Sentryman.
"I'm not sure if this man's ideas are too far out there or it has been too long since I read anyone express themselves so plainly. Sentryman personalizes every argument that easily defines the point he is trying to make. It can't all be that easy but this gentle man thinks it could and should be in government if citizens paid attention and got more involved. He laments; "will this nation ever again be "all for one", or remain 47% gimme-gimme and growing", continually reminding us, "who we once were, who we are supposed to be, and what we may become if not careful", Sentryman forewarns.
"As for 9% unemployment we all know is above 15%, wink-wink, slim prospects for Real Estate or private business, the 2nd year without a budget as Treasury's 24/7 lithographs shatter the Deadbeat's Ceiling helping support foreign $4. gas, the Chinese are eating our lunch & we're eating Kung-pow Take-out. Well, "the Emperor has no clothes!"...Sentryman
"And this Administration's single greatest accomplishment for reelection is the death of (1) lone terrorist by once touted bad guys, the Bush sponsored military, just might say more about us complacent Americans than "Allahu Akbar" only means; "Hey Cabby" in Germany. I'm impressed! Holy Jihad Batman, bye-bye Jerusalem," Sentryman waxes. youtube.com/watch?v=BmGe_lVYxDw&feature=player_embedded
This book is not just about politics though, it offers some history, philosophy, psychology and a little whimsy, in addition to faith and brimstone, hope and yes, charity. With a resource guide for some alarming videos for context, he is sometimes as subtle as a sledgehammer for affect, but then deftly as a surgeon's scalpel he fillets his opponents, a perusal of the chapter titles will even denote.
"No one should ever again blindly rely upon elected representatives deaf to safeguarding our freedoms, or some savior to save our bacon. Ending the Congressional employee's death-grip on their citizen-employer's wallets is what this "battle plan" is all about," Sentryman professes.
"Every citizen should be a soldier. This was the case with the Greeks and Romans, and must be that of every free state." Thomas Jefferson
"Made in America has been replaced with Paid by America!" SENTRYMAN
It Was Never About The Black Guy, It Was About "That Guy"! And Washington's Pyrates and Snakesss. The Final Solution – Fire Them All??, is available for sale online in paper workbook and on Kindle at Amazon.com and other channels.
http://www.amazon.com/s/ref=nb_sb_noss?url=search-alias%3Daps&field-keywords=Sentryman%2C++fire+them+all%3F%3F
About the Author: Sentryman, self-employed 45+ years, owned and operated four small businesses all but destroyed by the effects of the last 4 years. "Final Solution – Fire Them All??" is his first published book.
Media Contact - Sentryman Email: sentryman2010(at)aol(dot)com
###