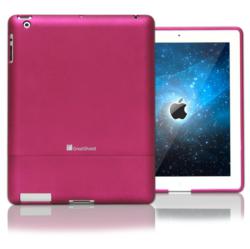 Love this case! It fits like a glove, which is what I had hoped. The case is so slim that one would not know it had a case on it except for the obvious color of the case and the slightly raised edge on the front/face of the ipod - Kim B (Covington, KY)
Woodbury, MN (PRWEB) June 15, 2011
GreatShield introduces the iSlide case for people who use their iPad 2 everywhere they go and want great protection. This ultra slim case is made from poly-carbonate material that provides superior protection from any bumps and scratches. The micro-fiber guardrail on the inside of the iSlide provides shock and scratch absorption so the iPad 2 is secure. Perfect for anyone on the run! A silky, satin finish gives the iSlide a classy look that will turn heads wherever it goes.
People who are busy and moving fast will want to charge their iPad 2 to be sure it's ready for that all important meeting. The iSlide has easy access to plug in the charger with out removing the case. When it's time to sync all that valuable information, simply slide off the bottom portion of the iSlide and start syncing away. No removing the entire case to get everything done that is needed.
All of the ports are open and ready to use. Taking pictures is a snap as well as listening to your favorite music. The iSlide comes in four appealing colors: Black, Red, Magenta and White
For more information about GreatShield iSlide cases or to view its products, visit http://www.greatshield.com
About GreatShield
GreatShield has hit the electronic accessory world with an innovative force. Located in Woodbury, Minnesota, GreatShield has quickly pinpointed the needs, and wants, of everyday people who are looking for quality products that will protect and enhance their newly purchased gadgets. We can be found through a network of online resellers.
# # #