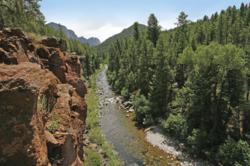 This auction is a chance of a lifetime for buyers to bid their price on the last remaining recreational ranch home sites within Ticonderoga Ranch.
Chama, NM (PRWEB) June 11, 2011
Buyers will have the rare opportunity to name their price on the last remaining Ticonderoga Ranch Recreational Home Sites during a live New Mexico real estate auction on Saturday, July 16. These 22 properties, located in the luxurious Ticonderoga Ranch community near Chama, N.M., will be offered without reserves and sold to the highest bidders, regardless of final price. In addition to the home sites, the auction portfolio will also offer a 1,952-square foot, three bedroom, two bathroom home located on 9.6 acres just outside the Ticonderoga Ranch, which will sell with reserve.
"This auction is a chance of a lifetime for buyers to bid their price on the last remaining recreational ranch home sites within Ticonderoga Ranch," said Travis Birdsong, owner/auctioneer with United Country – Birdsong Auction & Real Estate Group, who will be conducting the auction. "Accelerated auction marketing allows sellers and buyers to come to a meeting of the minds quickly with a competitively achieved fair market value. Because these 22 parcels are selling absolute, the highest bidder will own these properties, regardless of the final bid prices. This is an amazing opportunity to own a piece of Ticonderoga Ranch."
Ticonderoga Ranch is a 2,000-acre, gated community, surrounded by the Northern New Mexico Rockies. Owners at Ticonderoga Ranch enjoy private access to nine well-stocked lakes, more than two miles of Chavez Creek, and the adjacent Brazos River. In addition to private fishing and unmatched recreational opportunities, property owners also enjoy beautiful mountain views, heavily treed land and heavy populations of wildlife. Each of the 22 parcels offered during the auction feature a gravel driveway to the building site. The majority of the lots include underground electric to the lot line and a well-share water system.
This New Mexico auction will take place on Saturday, July 16 at 1 p.m., at the Timbers Lodge and Resort located on Hwy 512 (Brazos Lodge Road) in Chama, N.M. Property previews are scheduled for June 18-19 and July 9-16 from 9 a.m. to 5 p.m., or by private appointment. Auction details, photos and terms and conditions can be found at http://www.birdsongauction.com. Contact Travis Birdsong at 573-727-9656 for property inspections or additional questions. Owner financing is available to qualified buyers.
About United Country
United Country Real Estate is the largest fully integrated network of conventional and auction real estate professionals in the United States. Based in Kansas City, Mo., the company has been an innovator in real estate marketing since 1925. United Country supports nearly 600 offices across the U.S., Costa Rica, Panama and the resort areas of Mexico, with a unique, comprehensive marketing program that includes one of the largest portfolios of property marketing web sites (more than 2,000 separate sites), seven proprietary real estate catalogs with a cumulative distribution of 1.5 million readers, an extensive, current buyer database and national advertising of properties that reaches more than 90 million homes per week. United Country has recently been recognized by AllBusiness.com, The Land Report, Entrepreneur and The Wall Street Journal as one of the top U.S. real estate companies.
# # #