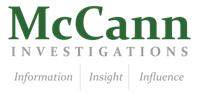 McCann Investigations acquisition of eDiscovery Forensics, Inc. is key in providing our clients with comprehensive computer forensics services.
Houston, TX (PRWEB) June 11, 2011
McCann Investigations is pleased to announce that that it has acquired e-Discovery Services of Houston. This merger completes McCann Investigations service offerings by bringing computer forensics services in-house.
McCann Investigations is a full service private investigative firm focused on providing e-Centric solutions that are in line with the complexities of a digital age. McCann's e-Investigation practice includes client services such as computer forensics, e-discovery, surveillance, electronic background investigations and IT network vulnerability assessments.
McCann's emphasis on its computer forensics division, and its concentration in the legal services market was one of the driving factors in the acquisition of eDiscovery Forensics, Inc. Computer Forensics, also known as digital forensics pertains to imaging, extracting and analyzing data and digital storage media on computers for the purpose of gaining legal evidence. Computer forensics labs, as well as computer forensics investigators, must be licensed by the state of Texas. All electronic evidence gathered by McCann's computer forensics lab and investigators will be admissible in litigation cases. McCann provides general litigation support as well as intellectual litigation support. McCann Investigations has also provided evidence in family law and divorce cases.
"McCann Investigations acquisition of eDiscovery Forensics, Inc. is key in providing our clients with comprehensive computer forensics services." said Daniel Weiss, Partner of McCann Investigations – Texas. "I am very pleased to be working with Gary Huestis at eDiscovery Forensics, Inc. His expertise in computer forensics rounds out McCann Investigations E-Investigations team."
"Given McCann Investigations national presence, this merger will allow eDiscovery Forensics to increase its market share beyond the Houston area." Said Gary Huestis, Founder of eDiscovery Forensics. "This is a good step in growing the company and providing clients with one entity which will see their case throughout the entire process."
The management team at McCann Investigations grows with the addition of Gary Huestis, who takes the position of Vice President of IT and Forensic Services. Gary Huestis started his computer career in 1988 working for Compaq Computer Corporation. As a Systems Engineer he was responsible for configuring, testing and debugging hardware and software slated to ship with their computer systems. After leaving Compaq in 2000 Gary focused his full attention on computer forensics. Gary became an EnCase Certified Examiner (EnCE) in 2005. Since that time Gary has worked hundreds of computer forensic cases, with work including data collection, electronic discovery, forensic investigations and expert testimony.
eDiscovery Forensics, Inc. will do business as McCann Investigations.
About McCann Investigations:
Since 1985, leading companies and executives have turned to McCann for best in class private investigative services. We provide information, insight, and influence™ that corporations, executives, law firms, accounting practices, and municipal and county governments can count on. McCann is a licensed data centric full service private investigative firm with offices in New York, New Jersey, and Texas.
Rather than having to contract multiple companies and scores of separate experts, McCann Investigations brings together a one stop investigative team that can help your company deal with all required areas of an investigation. Every McCann Investigations Partner leads a team that can perform background checks, computer forensics, network breach assessments, due diligence, and fraud investigations.
For more information about McCann Investigations, please visit http://www.mccanninvestigations.com or email investigator(at)mccanninvestigations.com
###