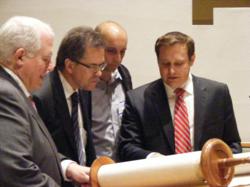 White Plains, NY (PRWEB) June 09, 2011
The Holocaust & Human Rights Education Center (HHREC) is pleased to announce that David A. Alpert has been elected to serve as the Chairman of HHREC.
Mount Vernon resident David A. Alpert serves as Senior Vice President, Riverside Memorial Chapel. He also serves on the Board of Governors at Yeshiva University's Wurzweiler School of Social Work and is vice president of the Advisory Board of the New York Board of Rabbis. He also serves on the advisory council of the Jewish Community Relations Council of New York.
Alpert is a past president of the Free Synagogue of Westchester and the Westchester Putnam Council of B'nai B'rith. He sits on the Board of Directors at the International Synagogue of JFK International Airport, the Advisory Council of Mourner's After Care Institute and is the past President of Westchester Jewish Conference. David is a long time Mount Vernon resident, married and is the father of 3 children.
About The Holocaust and Human Rights Education Center: The Holocaust and Human Rights Education Center (HHREC) is an interfaith, not-for-profit organization serving Westchester, Fairfield and Putnam counties to encourage and enhance teaching and learning about the Holocaust and its human rights lessons for today. Its members encourage students to speak up and act against all forms of bigotry and prejudice.
###