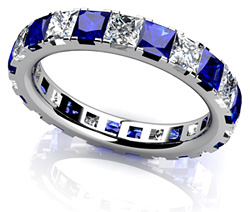 San Diego, CA (PRWEB) June 14, 2011
Anjolee, headquartered in San Diego County CA, announces the sale of three new anniversary rings added to their collection, allowing clients to effortlessly custom design their own rings online with an easy-to-use, high-tech ring customization interface.
Customizing your own, elegant anniversary ring or engagement ring has never been easier with Anjolee.com's online tools. The website's ring customization interface is easy to use, and shows viewers great clarity and precision with each design, so they can immediately see exactly how their ring design choices look onscreen--and on their finger!
Each of the three new bridal rings can be easily customized so that the customer can select the exact design their heart desires, which in turn effectively allows one to set their own price, based on the following features:

Metal Type
Total Carat Weight
Gemstone
Ring Size
Diamond Clarity.
The following three new bridal rings now adorn the Anjolee collection, for the public's buying and viewing pleasure:
1. Millgrain Edge Diamond and Gemstone Eternity Ring (# EB1000-Gem)
This eternity band features a modern millgrain edge that frames a single row of elegant, round diamonds and gemstones of your choice, alternating around the ring's entire circumference, for a luxurious, yet chic style. This ring radiates glamor by itself, or can perfectly compliment your diamond anniversary ring, depending on how you customize the design. This style ranges from 0.53 - 1.73 carats, depending on buyer's preference.
2. Princess Cut Diamond Eternity Ring (# EB1005)
This lovely ring features beautiful princess cut diamonds set in an eternity style, all the way around the ring. A beautifully classic style with simple elegance, this dazzling ring makes a perfect diamond anniversary ring. This style ranges from 2.50 - 4.86 carats, depending on the client's preference.
3. Princess Cut Diamond and Gemstone Eternity Ring (# EB1005-Gem)
This stunningly gorgeous ring features an eternity style of princess cut diamonds and gemstones which alternate around the ring's entire circumference. The buyer can choose between five different stone sizes, ranging from 2.50 - 4.86 carats. Wear this eternity ring alone as an elegant fashion accessory, or complete your bridal set by combining it with an existing engagement ring.
Anjolee jewelry is made with legendary class, quality, elegance, and pure materials--and now their modern website uses state of the art technology to create a luxurious shopping experience, using the best, and newest technology to simplify and enhance the shopping experience.
Anjolee, headquartered in Chula Vista, California, has been a leader in the art of high-end jewelry manufacturing since 1977, selling only to retailers and wholesalers until 2008, when it started selling to the public on the internet. Website: http://www.Anjolee.com.
# # #