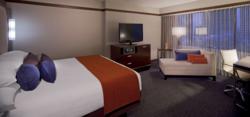 We took into account all guest feedback and are excited to provide an even better experience for our guests with the newest product in the city.
Columbus, Ohio (PRWEB) June 10, 2011
Hyatt Regency Columbus, located in the heart of the Arena District at 350 N. High Street, is proud to announce the completion of a $12 million renovation. The renovation features a complete remodel of the Columbus, Ohio hotel's 633 guest rooms as well as all corridors.
In order to complete the extensive renovation, all guest rooms, bathrooms, corridors, and elevator landings were completely stripped down, floor-by-floor, to provide a blank slate for the design team to transform.
All guestroom upgrades include new 42" flat screen TVs, mini-refrigerators, easily accessible electrical outlets at the granite-surfaced work desk and beside the bed, and new local photography showcased in every room. Bathrooms feature granite countertops, updated lighting and new shower curtains.
"This transformation was designed directly around guest comfort and functionality. We took into account all guest feedback and are excited to provide an even better experience for our guests with the newest product in the city," said Tim Dant, general manager. "The hotel has been a major landmark in downtown Columbus for 30 years and this renovation speaks to our commitment to keep it that way."
In addition, the Columbus hotel made some other major changes. The $12 million guestroom renovation prompted a reassessment of the previous smoking policy. Effective immediately, all guest rooms, restaurant, lounges, meeting rooms, public space, and employee work areas are entirely smoke free. The new nonsmoking policy is intended to provide for complete guest comfort, as well as protect employee and patron health.
Additionally, Hyatt Regency Columbus is excited to announce that select guestrooms have been transformed to PURE Allergy Friendly Rooms®. These guest rooms are designed to provide premium air for all guests, particularly allergy sufferers. Although all Hyatt rooms undergo a strict cleanliness protocol, PURE rooms go through an additional six-step process resulting in an improved overall feeling of wellness, helping guests relax, sleep deeply, and awaken completely refreshed.
To make reservations or to learn more about Hyatt Regency Columbus and the surrounding business, cultural, and recreational facilities the city has to offer, please visit http://www.hyattregencycolumbus.com.
About Hyatt Regency Columbus
The 633-room Hyatt Regency Columbus is situated in downtown Columbus, Ohio and connected to the Greater Columbus Convention Center. Located just steps from local attractions such as Nationwide Arena, Huntington Ballpark, the Arena District and Short North Arts and Entertainment District, Hyatt Regency Columbus offers guests convenience under one roof. With 70,000 square feet of function space, including the largest hotel ballroom in downtown, the hotel also offers a heated indoor pool, a fitness center with state-of-the-art cardiovascular and strength training equipment, a full-service restaurant and lounge, a full business center, and a 24-hour concierge. For additional information about Hyatt Regency Columbus, call (614) 463-1234.
###