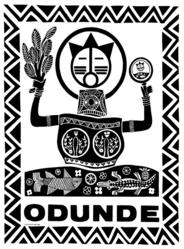 Philadelphia, PA (PRWEB) June 09, 2011
Organizers of the ODUNDE Festival, a four-day-long cultural event, whose programs reach audiences of more than 500,000 persons, today announced that it will host a Liberian Business Roundtable discussion and Ambassadors reception, with invited speakers Honorable Amin Modad, Assistant to the Minister of Commerce of Liberia; Honorable Matilda Parker, National Port of Liberia; Honorable Mary T. Broh, Mayor of Monrovia, on June 10, 2011. The discussion will aim to educate U.S. businesses and small-to-mid-sized enterprises on the economic and business opportunities that exist in the African marketplace.
After the roundtable event, there will be a V.I.P African Diplomatic and Ambassador reception, from 6:00pm until 8:00pm, at the Lincoln University Center City Building on 3020 Market St, 4th Floor, during which, representatives from Liberia and Angola will be present.
A panel of experts from the U.S. Business Administration, U.S. Export-Import Bank, U.S. Overseas Private Investment Corporation and U.S. Trade and Development Administration will provide information on project financing options available to area businesses.
Philadelphia claims more than 40,000 African immigrants, with more than 53 percent of those persons being of West African descent, specifically of Liberia, Nigeria and Ghana. According to the FAO Corporate Repository, Liberia, an agriculture-driven economy, whose main exports are rubber, timber, iron, diamonds, cocoa and coffee, is the leading producer and exporter of rubber on the African continent.
ODUNDE, Inc. is an educational and cultural organization that sponsors year-round programs featuring the African Diaspora, as well as the annual ODUNDE Festival, which was initiated in 1975 by Lois Fernandez and Ruth Arthur, and has gained a national reputation as one of Philadelphia's brightest cultural jewels.
Sponsors of this year's activities include, Greater Philadelphia Tourism Marketing Corporation, Greater Philadelphia Traditions Fund, Keystone Mercy Health Plan, Pennsylvania Lottery, Philadelphia Convention and Visitor's Bureau, Universal Companies, University of Pennsylvania Medicine and Wells Fargo.
WHO:

Hon. Amin Modad, Assistant to the Minister of Commerce of Liberia
Hon. Matilda Parker, National Port of Liberia
Hon. Mary T. Broah, Mayor of Monrovia, Liberia
Oshunbumi Fernandez, president and CEO, ODUNDE Inc.
Stanley L. Straughter, chairman, Mayor's Commission on African and Caribbean Immigrant Affairs, and board member of ODUNDE
WHEN: Friday, June 10, 2011
Liberian Business Roundtable - 10:30am-4:00pm
African Diplomatic and Ambassadors Reception – 6:00pm-8:00pm
WHERE: Liberian Business Roundtable
University of Pennsylvania
Iron Gate Theater
3700 Chestnut Street
Philadelphia, Pa
African Diplomatic and Ambassadors Reception
Lincoln University Center City
Building 3020 Market Street, 4th Floor
Philadelphia, Pa
###