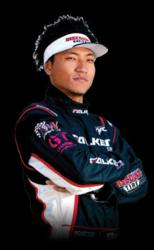 Scottsdale, AZ (PRWEB) June 13, 2011
Discount Tire, America's largest independent tire and wheel retailer, and sponsor of the Formula Drift Discount Tire/Falken Tire Nissan 240SX, today announced Daijiro Yoshihara's fundraising campaign for his home country of Japan. Yoshihara hopes to raise $100,000 to benefit the Japanese Red Cross Society.
Yoshihara, born in Tokyo and one of the extreme motorsport's most notable drivers, launched his fundraising campaign at the April 7-8 race in Long Beach, Calif. Yoshihara has since had stickers and t-shirts created with proceeds supporting those who have been adversely affected by the tragic earthquake and tsunami. Available for purchase at http://www.rfjp.org, the t-shirts ($20.00) come with the choice of three different phrases: "Drift to Japan," "Together, Support Japan" and "I support Japan." The stickers ($5.00) are available in several "I support Japan" versions. Both pieces of merchandise integrate the Red Cross logo.
"My goal is to show the people of Japan we have not forgotten and will continue to support the rebuilding of Japan," said Daijiro Yoshihara. "Being from Tokyo and with drift racing being a sport that began in my homeland, this is clearly an important initiative for all of us."
Yoshihara plans to continue the campaign through the 2011 Drift season which ends at the October 7-8 Formula Drift Championship event. To learn more about his campaign efforts, watch G-T Channel's BEHIND THE SMOKE reality episode number two on You Tube: http://www.youtube.com/watch?v=H162LTmEpJk
Affectionately known as "Dai," Yoshihara has consistently placed within the top five standings for the Formula Drift Championship Series over the past seven years. Discount Tire, a long standing North American Drift supporter, has been the primary sponsor of Yoshihara since 2009 and the exclusive tire and wheel retailer of the Formula Drift Championship Series for the past seven years.
Discount Tire also sponsors the tires.com Triple Crown, which is made up of three regular season Formula D events. The driver with the highest combined score from Road Atlanta, Evergreen Speedway and Irwindale Speedway receive a $10,000 cash prize and a custom Fender guitar.
ABOUT US
Discount Tire, based in Scottsdale, Arizona, is America's largest independent tire and wheel retailer. Also known as America's Tire in Oregon and some parts of California, we currently operate 800 stores across the country. In 2010, the company marked its 50th year serving customers as their trusted tire retailer in local markets across the U.S. Discount Tire also sponsors NASCAR Nationwide Series and Formula D racing. News, driver appearances, show car schedules and racing schedules can be found at http://www.discounttiremotorsports.com. For more information about Discount Tire and America's Tire visit About Us.
# # #