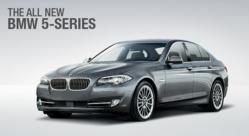 The all new 2011 BMW 5-Series continues to impress buyers who want power, loaded standard features, excellence and value.
Chandler, AZ (PRWEB) June 16, 2011
Chapman BMW, a leading BMW dealership in Chandler, Arizona, announced that the dealership offers a navigation technology credit on all new BMW 5-Series models for a limited time. The option credit of up to $1,730 on new 5-Series models already equipped with navigation technology (excludes the 550i which comes standard with navigation technology) is now available at Chapman BMW.
In addition to the option credit program, Chapman BMW also prides itself in maintaining the largest selection of BMW 5-Series models in the Valley. With plenty of options to choose from, consumers will be impressed with the incredible performance, timeless style, and countless innovations that embody the legacy of the 5 Series. When it comes to offering the latest and greatest BMWs on the market, Chapman BMW delivers.
The all new 2011 BMW 5-Series continues to impress buyers who want power, loaded standard features, excellence and value. Chapman BMW's newest lineup of 5-Series models boasts an attractive combination of performance, comfort and technology. An 8-speed automatic transmission, electronic limited slip differential, four-wheel disc brakes with ABS, Dynamic Brake Control, Dynamic Stability Control, Dynamic Traction Control, 17-inch alloy wheels with run-flat tires, rain-sensing wipers, fog lights, power-adjustable, heated and folding outside mirrors all come standard on select vehicles. In addition, the BMW 5 Series has several key features including ConnectedDrive and the Enhanced Automatic Collision Notification system.
The state-of-the-art ConnectedDrive system has even more innovative features to keep motorists connected, wherever they go. New features include Mobile Office, which can display smartphone emails and text messages on the iDrive screen when stationary and reads them to drivers while driving so they'll never have to take their eyes off the road. Enhanced digital music functions allow drivers to view album titles, artwork and even wirelessly stream music from your Bluetooth compatible phone or MP3 player through the audio system.
The Enhanced Automatic Collision Notification system alerts authorities when an airbag deployment has occurred. Furthermore, data from on-board safety systems is processed and analyzed through the proprietary URGENCY algorithm so that the vehicle may provide the BMW Assist call center with special notice when occupants are likely to have sustained severe injury.
In terms of appearance, the new BMW 5 Series sedan stands out clearly from the competition. Overall, the aesthetic looks of the car are achieved through balanced proportions. Design features emblematic of BMW are to be found at the front with its kidney grille inclined slightly forward, in the stylish and elegant side view of the car, and at the muscular rear end.
See its new look online at http://www.chapmanbmw.com/BMW-5-Series-Phoenix.
Highly advanced drivetrain and suspension technologies combine agile handling for the driver and a high standard of riding comfort for passengers. When equipped with the Sport Package, the new BMW 5 Series Sedan includes Adaptive Drive, which encompasses Driving Dynamics Control, Electronic Damper Control, and Active Roll Stabilization. Optional Integral Active Steering will virtually extend or shorten the vehicle's wheelbase for improved stability at high speeds and enhanced agility at lower speeds.
Consumers who are eager to learn about the cutting edge features and $1,730 option credit on the BMW 5-Series — as well as the complete lineup of BMWs from Chapman BMW — can visit http://www.chapmanbmw.com for more information.
About Chapman BMW
Chapman BMW is a new, Certified Pre-Owned BMW and used BMW dealer located in Chandler, Arizona. Their state-of-the-art Arizona BMW dealership features a full inventory of BMW cars and BMW SUVs with real photos featured on their website. The dealership amenities include a brand new BMW Service and repair facility. Chapman BMW invites consumers to visit and see why they take pride in the vehicles they offer and the service they provide.
# # #