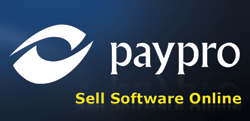 Offering such a popular local service will greatly increase the revenues of our partners
Toronto, Canada (PRWEB) June 10, 2011
PayPro Global, a global eCommerce solution provider offering an innovative platform to sell software online, announced today a new partnership with Boleto Bancário - the most popular solution for online payments in Brazil. The most recent portfolio addition allows online software vendors to increase their presence in the Brazilian market, offering customers a secure, risk-free, popular payment option that they can trust.
"Brazil is one of the fastest growing software markets in the world. Offering such a popular local service will greatly increase the revenues of our partners." said Matthew Silverman, PayPro Global CEO.
Brazil has the largest number of internet users in Latin America with a steady growth of 23% in recent years, leading potentially to escalated software sales. With continuous enhancement to its eCommerce platform, PayPro Global offers e-shoppers localization, flexibility and convenience resulting in improved conversion rates and high customer satisfaction.
About Boleto Bancário
Boleto Bancário is the most popular solution for online payments in Brazil. It has gained more than 20% of the ePayment's market share in less than 2 years. With an average annual growth of 100 percent, the method is quickly becoming one of the most preferred payment methods. Additional contributing factors include its convenience and high security.
About PayPro Global
Founded in 2006, PayPro Global, Inc. develops and hosts an eCommerce solution that allows anyone to easily sell software online. PayPro Global supports more than one hundred currencies, all major credit and debit cards, and a wide variety of payment options. The company also offers software developers state-of-the-art licensing, activation, and anti-piracy protection for their applications.
PayPro Global is headquartered in Toronto, Canada, with development centers in Ramat Gan, Israel and Lugansk, Ukraine, and regional offices in Milwaukee, USA, and London, UK.
Web site: http://www.payproglobal.com
Contact
Matthew Silverman, CEO
PayPro Global, Inc.
Suite 1117
250 The East Mall
Toronto, Ontario
M9B 6L3
Canada
Phone: +1-646-873-6857 (Canada)
###