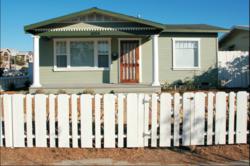 This Saturday's event will feature an Extreme Makeover-type of reveal at 9:15am where a family will be surprised with brand new appliances.
San Diego, CA (PRWEB) June 10, 2011
Community HousingWorks' annual FaceLift event has been scheduled for the morning of Saturday, June 11, 2011. On this date the San Diego-based non-profit will help spruce up a block in a day through the help of community volunteers, neighborhood associations, local business leaders, and local political leaders acting as a catalyst to build pride and equality. An awards ceremony and pizza lunch will take place at 12:30pm.
In a special twist, this Saturday's event will feature an Extreme Makeover-type of reveal at 9:15am where a family will be surprised with brand new appliances thanks to a grant from Wells Fargo.
Started in 1995, the FaceLift program makes living space improvements for homeowners who are low-income, disabled or elderly. Over 13,000 volunteers have been mobilized for this cause during the past 16 years, giving facelifts to hundreds of homes in City Heights that were previously best described as "tired."
As part of the effort to brighten up these communities, more than 2,000,000 pounds of trash and debris have also been removed during this same time from area alleys, streets, and nearby canyons. The 2011 clean-up effort will continue this tradition.
"This is the 26th neighborhood to be revitalized by the FaceLift effort, and we've helped overhaul a large chunk of City Heights," says Linda Pennington, who coordinates the FaceLift program for Community HousingWorks. She adds, "This year we expect to have over 700 friends and volunteers from a dozen different organizations showing up to make another corner of the city a nicer place to live."
Scheduled for June 11th between 8am-2pm, the 2011 FaceLift will clean up 12 homes on Trojan Avenue in the Colina Park Neighborhood of City Heights. All FaceLift homes will be provided with:

Fresh paint
Upgraded fencing, railings, doors and lighting
Repaired steps
New landscaping
Cleaner streets, parkways, alleys and yards
Registration starts at 7am at 54th Street and Trojan Avenue.
"In the past two years both Azalea Park and the Corridor Neighborhood have been transformed in a single day by fresh paint, new plants, flowers, trees and elbow grease" observes Community HousingWorks CEO Sue Reynolds.
The project has traditionally been sponsored by Redevelopment Agency funds with support from City Council members Todd Gloria and Marti Emerald. Other financial supporters this year include Price Charities, UPS, Wells Fargo Bank, NeighborWorks, Frazee Paint, American Red Cross and City Heights Retail Village. Donations of money, goods, and time are all requested and greatly appreciated.
"We provide the rakes, loppers, shovels, brushes, rollers, paint, and supplies," reports Ms. Pennington, "And the first 500 people to arrive for work will even get a free T-Shirt." Participants are asked to provide their own work gloves, paint clothes, sturdy shoes, sunscreen and hat.
Filtered water will also be available for volunteers, though the organizers request workers bring a reusable water bottle with them. "This will help us keep the project greener than if we were handing out individual bottles of water," says Ms. Reynolds.
Parking is recommended (and free) at Horace Mann Middle School, 4345 54th Street, San Diego. Additional parking is available on 54th Street, as well as on Trojan Avenue east of 54th Street.
About Community HousingWorks
Community HousingWorks is a San Diego-based non-profit dedicated to helping people and neighborhoods move up in the world by providing a full range of housing options combined with training and support. The organization provides apartments with affordable rent at 29 communities around San Diego County.
Since its founding in 1982, the goals of Community HousingWorks have always been to build beautiful yet affordable apartments; provide unique first-time homebuyer loans; and to support/train community members throughout San Diego County to help their families build a healthier economic future.
The organization's team of professional support staff consistently delivers plain-spoken answers to difficult financial and real estate questions. They offer financial training classes, viable alternatives to foreclosure, and a full range of real estate services specifically geared towards first-time homebuyers.
Community HousingWorks serves the San Diego County region, and in 2010 helped over 15,000 individuals, families, and children. Community HousingWorks is San Diego County's only member of the national NeighborWorks Network®, and a proud affiliate of the National Council of La Raza.
You can donate to Community HousingWorks, or get more information, at http://www.chworks.org.
# # #