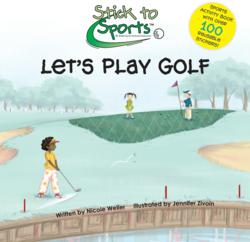 "The goal of the book is to introduce young boys and girls to the game, and to help their teachers – whether it be coaches, parents or grandparents – provide reward systems to make the experience enjoyable and memorable."
Savannah, Ga. (PRWEB) June 09, 2011
Nicole Weller, head teaching professional at The Landings Club, was just four years old when she started to play golf. So it comes as little surprise that one of the most dynamic golf instructors in the southeast announced today that she is publishing a book designed to help juniors, ages 4 to 8, embrace the game of golf.
"Stick to Sports: Let's Play Golf," a 48-page activity book, will be released June 23. It will initially be available through http://www.sticktosports.com, and at The Landings Club(where a book signing for members is scheduled for June 23), as well as other stores in the Savannah area. More national distributors will be announced throughout the summer.
"I am really excited to see this project come to fruition," said Weller, a Rolex Junior All-American who went on to play four years of collegiate golf at Wake Forest University. "The goal of the book is to introduce young boys and girls to the game, and to help their teachers – whether it be coaches, parents or grandparents – provide reward systems to make the experience enjoyable and memorable."
The book includes a series of both points and reusable reward stickers to commemorate new levels attained by the children learning the game. Weller – who earned her master's degree from the University of Tennessee, completing a thesis on "Mental Skills Interventions for Young Golfers" – has incorporated kid-friendly games to help young golfers learn, comprehend and have fun all at the same time. The Gum Check Game is one such example: "When you finish your swing and freeze, have someone check that there isn't any gum on the bottom of your back shoe!" Weller says this promotes proper weight shift toward the target by rotating the back foot up on its toe, though for the juniors it is a clever way to check for gum.
Weller, too, is a strong believer that there's more to golf than learning proper swing techniques. She has included sections on the history and origins of the game, how to keep score, important rules, manners, safety tips and on-course games, plus the importance of having the proper equipment. She also has written an easy-to-follow teaching plan to help mentors stay on course and provide a logical introduction to the game.
The book is resonating with those who have seen an advance copy.
Laura Diaz, winner of more than $5 million since debuting on the LPGA Tour in 1999, was quick to praise Weller's work. "It's obvious that Nicole has a very clear understanding of children, their imaginations and learning needs," said Diaz, who started playing golf at the age of 9.
"By turning golf instruction into a game that junior golfers will absolutely love," said Dr. Rick Jensen, "Nicole Weller has set the standard for how to introduce children to the game." Founder of Dr. Rick Jensen's Performance Center, he has served as a performance consultant to the PGA of America.
According to Cheryl Anderson, 2006 LPGA National Teacher of the Year, Weller's book does a masterful job of tackling what can be an intimidating game to learn. "Let's Play Golf breaks down all the essentials that anyone needs to know to get started," said Anderson, director of instruction at the Mike Bender Golf Academy in Lake Mary, Fla. "This wonderfully illustrated book will draw kids into the sport and will tee them up for long-term success in this game of a lifetime."
More information on the book is available by visiting http://www.sticktosports.com. The book is priced at $12.95 (U.S. and Canada), plus shipping. Quantity discounts are available for orders of 5 or more copies.
For media relations, appearances or book signing inquiries, contact Melanie Smith at (912) 713-7713.
###
About the Author
Nicole Weller has enjoyed her own success on the links as she won the Massachusetts State High School Girls Championship her senior year (playing under her maiden name of Dorthe), and was subsequently inducted into the Coyle & Cassidy High School Athlete Hall of Fame. She also competed in numerous Massachusetts junior girls and women's amateur events.
Now a member of the PGA of America and the LPGA Teaching & Club Professional Division, Weller has earned various "Teacher of the Year" and "Top Teacher in the Region" honors, including those from the Georgia PGA (East Chapter), U.S. Kids Golf Top 50 Instructor, Golf Digest 'Top 40 under 40 Best Young Teacher' and GOLF Magazine (Southeast Region).
Prior to joining The Landings Club in 2005, Weller was an instructor at the Fairways & Greens Golf Center in Knoxville, Tenn., the Cherokee Country Club in Knoxville, and a camp counselor at the Pinehurst Junior Golf Advantage School at Pinehurst Resort & Country Club.
Weller's strong rapport with youths is reflected in the volunteer time she currently donates to Big Brothers/Big Sisters and The First Tee/LPGA-USGA Girls Golf programs in Savannah.
"I am incredibly grateful for the support I have received from The Landings community, my husband and fellow PGA member Ty, and my colleagues at work," Weller said. "I have thrown my passion for the game of golf and for kids into this venture, and I'm indebted to all the people who have spurred me along from the start. I also want to thank my past and current junior golfers for the opportunity to be creative and develop fun games with them that enhance their passion for the game and its life lessons."
About The Landings Club
The Landings on Skidaway Island is located less than 10 miles south of historic Savannah, Ga. Six championship golf courses frame the center of this private island golf community, set on a 6,500-acre island. Residents enjoy four elegant dining clubhouses, miles of walking and biking trails, 34 tennis courts, two deep-water marinas and a variety of other coastal amenities. Named "one of the nation's best residential communities" by the Urban Land Institute, homes at The Landings range from $250,000 to $1 million plus; home sites from $120,000. More information is available by calling (800) 841-7011 or by visiting The Landings website at: http://www.thelandings.com.