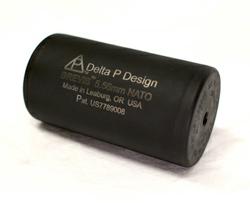 The BREVIS 5.56 compact allows the operator to keep the suppressor on the rifle at all times
Walterville, OR (PRWEB) June 14, 2011
The BREVIS 5.56 compact suppressor was initially developed as a direct flash hider replacement for variants of the 5.56 NATO Special Purpose Rifle. With its symmetric internal geometry the BREVIS 5.56 compact lends itself to the precision rifle role and exhibits minimal point of impact shift. The BREVIS 5.56 compact is rated for full auto fire.
"The BREVIS 5.56 compact allows the operator to keep the suppressor on the rifle at all times", said William Graves of GPS Sniper School. "The days of removing and replacing a suppressor with various mounting systems for precision rifles are over. In class, we successfully shot the BREVIS 5.56 compact suppressor from 100 to 900 yards in 50 yard increments using the same sighting inputs as without the suppressor."
Like many users, the staff at GPS was skeptical about the performance of the BREVIS 5.56 compact due to its extremely compact overall length. It took using it themselves to erase the conventions previously associated with attempts at sound suppressors with this kind of minimal overall length.
The BREVIS 5.56 compact has the ability to fit into close handling environments, vehicle interiors and rack systems without modifications. The Delta P Design BREVIS 5.56 compact delivers peak sound signatures to the operator below 133 dB* even on the carbine length barrels desired by many professionals.
Delta P Design Inc. licensed by the Bureau of Alcohol Tobacco and Firearms as a Type 07-02 Manufacture of Firearms other than destructive devices. Delta P Design is located in the beautiful Willamette Valley region of Oregon, USA. For more information, visit the Delta P Design website at http://www.deltapdesign.com.

###