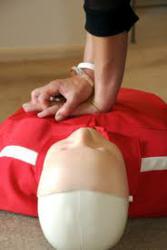 The best way to become proficient in CPR is under the watchful eye of a certified American Heart Association instructor.
San Francisco, CA (PRWEB) June 14, 2011
Many people require CPR certification for their line of work, including nurses, child care providers, teachers, dentists and personal trainers. Over the past few years, a slew of online CPR training schools have emerged. Safety Training Seminars sees many students in its San Francisco classroom each week who have been fooled by these online classes: online CPR classes are not accepted for most jobs in the San Francisco Bay Area. In an effort to educate individuals seeking CPR certification, Safety Training Seminars has created a list of the top five reasons why you do not want to take an online CPR training class.
1. Practice makes perfect
Can you become a great soccer player by training on the computer? Absolutely not. CPR is a skill that takes time and practice to master. CPR students must be in the presence of an instructor certified by the American Heart Association or American Red Cross to correct mistakes so that these life saving skills can be performed properly. When attending a CPR class in a classroom setting, such as in AHA CPR classes offered by Safety Training Seminars, students will receive plenty of practice time under the supervision of a certified CPR instructor. Hands on practice with a CPR manikin will help students develop muscle memory that can be recalled easily in an emergency.
2. CPR Certification Card
Students who attend an official American Heart Association CPR training class receive the proper AHA CPR certification card and book. People who attend online classes will not receive the official CPR card. According to Safety Training Seminars, online CPR training companies issue a card that looks very similar to the official American Heart Association card in color and wording, which fools many people.
3. Money Back Guarantee
Many online CPR training classes offer a full refund if their CPR card is not accepted at the student's place of employment. However, according to Safety Training Seminars, in order to receive the refund, a supervisor would have to fill out a lengthy form with all their contact information. Then the student has to spend $15 to mail the CPR card back with tracking. The online CPR training companies make it so difficult to receive a refund that most people just give up.
4. CPR training classes are fun!
It is more fun to take a CPR class with other students so you can meet new people. In-person classes enable you to bring friends and family members along to learn these life-saving skills together. Training classes also enable students to practice on CPR manikins and use defibrillators (also known as AEDs) in realistic life threatening scenarios. CPR training classes are conducted in a relaxed, fun and stress-free atmosphere and are offered in the evenings, during the day or on weekends.
5. Blended eLearning CPR certification
The American Heart Association does not offer any CPR classes that are conducted entirely online. However, the group does offer blended eLearning classes that combine an online class in conjunction with hands-on practice with an authorized AHA instructor. These classes are convenient, valid for certification, and offer a time saving option to receive proper CPR certification.
Safety Training Seminars provides American Heart Association CPR and first-aid certification classes to companies and individuals in San Francisco and Concord, CA. For more information or to sign up for a class, visit Safety Training Seminars online at http://www.safetytrainingseminars.com.
# # #