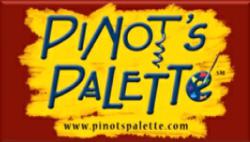 "Based on our many lengthy discussions with Larry Schwartz we found USG to be a great fit to help Pinot's Palette achieve the ambitious goals of our budding franchise."
-- Craig Ceccanti, Pinot's Palette CEO
Houston, TX (PRWEB) June 12, 2011
Pinot's Palette is pleased to announce that they have joined forces with Upside Group Franchise Consulting to expand their franchise operations systems, create franchise development deliverables and widen their franchise base.
According to Craig Ceccanti, Pinot's Palette CEO, "Based on our many lengthy discussions with Larry Schwartz we found USG to be a great fit to help Pinot's Palette achieve the ambitious goals of our budding franchise. USG's holistic and pragmatic approach combined with their understanding of short and long term goals was refreshing."
Pinot's Palette (formerly Pinot & Picasso) first opened for business on May 6, 2009 and combines fun, friends and fine art. Being a new concept to Houston, they started small, with the hopes of having class three nights a week. Before long, word of mouth spread of the new "fun night out" and Pinot's Palette now have two fun locations & are accepting applications for franchises!
Much has changed since Pinot's Palette first opened their doors, but the one thing that hasn't changed is their mission - to bring fine art to the masses in a fun way, and to teach painters the magic to create their own masterpieces! So come --- Paint. Drink. Have Fun --- with Pinot's Palette!
Upside Group Franchise Consulting is a full service, boutique franchise consulting firm with offices across the country. They have a handpicked, professional staff with decades of franchise experience from all disciplines of the franchise industry. Upside Group Franchise Consulting offers their clients a full suite of franchise services including innovative franchise marketing programs, outsourced franchise sales, franchise sales training, franchise lead screening, franchise manuals, franchise marketing collateral, and award winning web design. Headquartered in Scottsdale, Arizona, Upside Group Franchise Consulting regularly speaks at International Franchise Association events, serve as contributing writers for several franchise industry publications and have instructed at Nova University, the nation's leading institution for higher education in the franchise industry.
To learn more, please visit: http://www.upsidefranchiseconsulting.com
# # #