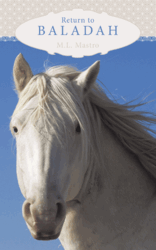 Tinton Falls, NJ (PRWEB) June 14, 2011
Two horses and their human companions forge new friendships, learn how to harness the power of magic and undertake a mission to fulfill their destiny in Return to Baladah (published by AuthorHouse), the new young adult fantasy fiction by debut author M.L. Mastro.
Crystal, the story's narrator and one of its main protagonists, was born in the country and grew up surrounded only by other animals. Crystal first met Shadow, a white stallion with a taste for adventure, when she was just a young foal. A loner for the most part, Shadow traveled the world solo for several years before becoming reunited with his old friend.
Now a full-grown, glowing white mare with a long, flowing mane and tail, Crystal quickly becomes a close and constant companion to Shadow when he returns to her herd. Their peaceful existence is disrupted one day when Crystal is startled to see a strange creature walking upright and is informed by another herd member that she's looking at a human being for the first time.
After Crystal describes the encounter to Shadow, his curiosity is immediately piqued and he wastes no time in making plans to travel the countryside in search of more information. But before he can embark on his mission, a group of humans return and swiftly capture Crystal, Shadow and the rest of the herd.
Along with their friends, the two white horses are taken to a ranch and preparations are made for all of the animals to be broken and trained for riding. Two young ranchers, best friends Lynn and Rachel, take a special liking to Shadow and Crystal, the only horses left from the herd who are still unbroken.
Filled with admiration for the majestic white stallion and glamorous white mare, Lynn and Rachel vow to free Crystal and Shadow from the confines of the ranch. Late one night, the two girls sneak out and lead the horses out into open field. When they're nearly caught in a violent confrontation with a friend of Lynn's father, Lynn and Rachel must look to their new equine friends for help.
Realizing that they are indebted to the two young girls, Shadow and Crystal let their guard down and allow Rachel and Lynn to mount them, and so marks the beginning of an epic adventure that will lead them on a series of memorable escapades. Join them in this fresh, modern tale that remains original while taking inspiration from the iconic imagery and characters featured in classic books like "Black Beauty" and "The Black Stallion".
About the Author
M.L. Mastro has been writing since age 12 and ultimately hopes to become a veterinarian. Now age 17, Return to Baladah is Mastro's first book, and she is nearly finished with three additional children's stories to be published later this year.
AuthorHouse, an Author Solutions, Inc. self-publishing provider, is a leading provider of book publishing, marketing, and bookselling services for authors around the globe and offers the industry's only suite of Hollywood book-to-film services. For more information, visit http://www.authorhouse.com.
###