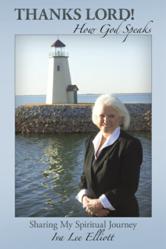 Edmond, Okla. (PRWEB) June 13, 2011
Follow along on the spiritual journey of author Iva Lee Elliott in Thanks Lord! How God Speaks (published by CrossBooks) as she tells of how God speaks to those who will listen.
Thanks Lord! How God Speaks is written in two parts, beginning with the humble beginnings of Elliott's life, being born in a shack out in the country of Oklahoma. After marriage to her husband, Jerry, she begins her journey living in several towns, as they are transferred by the company her husband is employed with. She tells of many experiences in each of those towns, including buying a home that was demon possessed. Her spiritual journey began in Tulsa, Oklahoma, when as a young wife and mother she knelt at a Methodist altar and committed her life to Christ.
"From that day forward my life has never been the same," says Elliott. "I tell of how God led and guided my life in many miraculous ways."
In Part II, Elliott writes about her experiences with angels, miracles and healing. After reading the book The Shack, God led her to leave her denomination of over forty-five years. During her search for another church, God led her to meet, Monica, from Kenya, Africa. She tells of the vision God has given Monica for her country. Monica writes the final chapter about her life in Africa.
Thanks Lord! How God Speaks is a perfect example of how to better communicate with God and showcases how He has worked in Elliott's life and the lives of many others.
About the Author
Iva Lee Elliott was born and raised primarily in Oklahoma, where she is retired. She and her husband, Jerry, have three children and eight grandchildren. Monica Ndinguri, who wrote the last chapter, has graduated from the University of Central Oklahoma and plans to return to her country, Kenya, to follow God's plans for her.
CrossBooks, a division of LifeWay Christian Resources of the Southern Baptist Convention, is a Christian publishing imprint committed to bringing more Christian voices into the publishing industry. Established authors, first-time authors, and authors anywhere in between can meet their goals and fulfill their vision for their books by publishing with CrossBooks. CrossBooks' innovative style of publishing blends the best of traditional and self-publishing. While our authors contribute monetarily to cover the cost of publishing, we maintain a strict moral and quality standard that every manuscript must meet for us to publish. For more information on publishing your Christian book with CrossBooks, log on to crossbooks.com or call 1-866-879-0502.
###