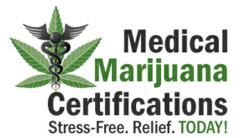 In addition to offering first rate marijuana evaluations to qualified patients, Arizona MMC offers many Free services no one else does.
Kingman, AZ (PRWEB) June 14, 2011
Arizona Medical Marijuana Certifications (Arizona MMC), the state's premier AZ Medical Marijuana center, will be seeing patients in Kingman, AZ June 17-18 at the Holiday Inn Express.
Hours for the evaluations are Friday from 3pm to 8pm and Saturday from 8am to 8pm in the meeting room. The address for the Holiday Inn Express is 3031 E Andy Devine Ave, Kingman, AZ 86401.
The Kingman visit will serve qualified patients in Kingman, Lake Havasu City, and Bullhead City. As a requirement in Arizona, patients need to have an in-person examination from a licensed doctor and a review of the past 12 months of medical records for the qualifying condition.
With the passing of Prop 203, medical marijuana is now legal in Arizona for qualified patients with debilitating medical conditions. Patients with Cancer, Severe Nausea and Vomiting, Chronic Pain, Severe Muscle Spasms, Glaucoma, Hepatitis, HIV or AIDS, Crohn's Disease, MS or ALS, Cachexia or Wasting Syndrome, or Alzheimer's Agitation may qualify for an Arizona Medical Marijuana Card.
Most medical marijuana in AZ evaluation centers do not provide the services that Arizona MMC does for its patients. These include the following:

Free Passport Identification Photos
Free Document Scanning
Free Assistance with the Online AZ Medical Marijuana Card application process
Free E-Book titled Medical Marijuana – The People Have Spoken
Obtaining Medical Records for patients for… Free.
Arizona MMC is the only center to offer a comprehensive E-Book, which is over 40 pages and contains chapters on The Basics of Cannabis, Arizona's Path to Legalizing Medical Marijuana, the Basics of Obtaining an AZ Medical Marijuana Card, and the latest medical information on how marijuana benefits debilitating conditions.
Arizona MMC has instituted a discounted pricing structure for patients who partially pre-pay for their visit. Normally the on-site price is $199, however, if patients pre-pay $75, the total visit price is discounted 25% to $149.
Appointments are being scheduled and time slots are filling up fast. There will also be a limited number of walk-in appointments allowed as well. Signing up early will also allow the Center time to obtain, for Free, patients' medical records.
For patients in the Phoenix and Scottsdale areas, the regular Arizona MMC office is located in central Phoenix area, conveniently located off of the Highway 51 at Bethany Home Road.
For an appointment, patients may either call Toll Free (855) 294-3227 or visit the website at http://www.arizonammc.com.
###