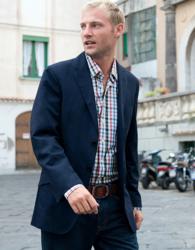 (PRWEB UK) 13 June 2011
The Queens tennis tournament started on 6th June and runs until 12th June ahead of Wimbledon which starts on 20th June with the top three seeds Rafael Nadal, Andy Murray and Andy Roddick all taking part. Former world number one, Roger Federer, competes at the Gerry Webber Open during Queen's week, so will not be making an appearance and Andy Murray's persistent ankle injury could prevent him from performing at his best. Rafael Nadal is on top of his game again, after winning the 2011 French Open, and Andy Roddick is consistently strong on grass. Serbian, Novak Djokovic, has been the biggest surprise this year, having won the first of the Grand Slam series, and reaching the semi-finals of the second. With athletes like these, this year's Aegon Championships is sure to be a spectacle.
This year, some of the staff at Queens including the stewards will be kitted out in the finest gear from Crew Clothing for a classic, English look. The clothes that were chosen include the Crew Classic Stripe Shirt which is the epitome of smart casual. It comes in a selection of fresh colours which are perfect for the summer months with the classic, vertical stripe and Crew crossed oars logo. Queens opted for the navy and white stripe shirt to go under the classic Ashton blazer in navy. The single breasted blazer is a cotton/linen mix and matches the navy linen trousers which were also supplied.
The women at Queens will be wearing the blue stripe Annie Shirt which is a tailored shirt with a relaxed fit. The blue, vertical stripe shirt matches the men's shirts but instead of wearing a navy blazer, the ladies will be wearing the white burley blazer.
Crew Clothing has often been associated with sporting events and has been sponsoring several Gig Rowing clubs across the South West of England in support of their coastal roots. For more information about Crew Clothing, their events and sponsorship, contact Frank Sendler on 0208 875 7205 or email frank(at)crewclothing(dot)co(dot)uk
# # #