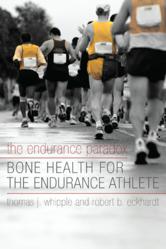 State College, PA (PRWEB) June 10, 2011
A new book explains why endurance athletes do not need to expect stress-related bone injuries as a result of their training and competition. The Endurance Paradox: Bone Health for the Endurance Athlete explains how athletes at any level can maintain the delicate balance between endurance exercise and optimum bone health over their lifetime.
Co-authors Thomas Whipple, a leading orthopaedic physical therapist, and Robert Eckhardt, a scientist specializing in the musculoskeletal system, clear up many misconceptions about bone health and provide holistic, simple and effective workout and nutritional strategies that runners, cyclists and triathletes can immediately implement so they can prevent stress fractures and osteoporosis and arrive at the start line healthy.
Endurance athletes face the paradox of going farther and faster and feeling stronger while their bones are getting weaker. New, compelling evidence shows that the very activities that expand mental and physical abilities may be reducing the durability of our skeletons. The Endurance Paradox explains the connection between muscles and bones and covers training strategies and exercises, nutrition, calcium, stress fractures, rehabilitation, running mechanics, footwear, posture and pharmaceuticals.
"The Endurance Paradox is well-researched and provides a wealth of valuable training and dietary information on an important topic which has long been overlooked and misunderstood by the endurance sports market. I highly recommend it to athletes and coaches," says Joe Friel, Head Coach of TrainingBible Coaching and co-author of The Paleo Diet for Athletes: A Nutritional Formula for Peak Athletic Performance.
An easy-to-read, evidence-based guide that details the practical applications and experiences of world-class athletes and coaches, The Endurance Paradox is an essential guide to maintaining bone health for endurance athletes, fitness enthusiasts, coaches and exercise physiologists.
The Endurance Paradox is available from Left Coast Press, Inc. for 30% off the list price and Amazon.com
Thomas Whipple is an orthopaedic physical therapist with over 20 years of experience rehabilitating recreational and competitive athletes. He holds a B.S. in physical therapy from Northwestern University and a master's in orthopaedics from Georgia State University. In addition, he holds a certificate in mechanical diagnosis and therapy from the McKenzie Institute and is a certified Pose Running Coach.
Robert Eckhardt is a professor in the Department of Kinesiology at Pennsylvania State University. He has over 40 years of experience conducting and publishing research in the development and evolution of the human musculoskeletal system. His research has been supported by the National Institutes of Health, and he has published numerous scientific papers and books.
For more information, view the interview with Whipple.
###