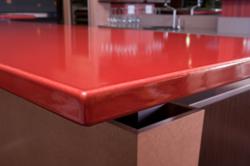 Raleigh, NC (PRWEB) June 12, 2011
Pyrolave introduces their new bold and intense color of Glossy Vermillon; the enameled surface is sleek and undeniably sophisticated. The drama imparted by Pyrolave countertops goes deeper than their striking good looks – it goes to the story behind these extraordinary lava stone surfaces.
Literally pulled from the center of the Earth, the Volvic lava stone is extracted from the heart of volcanic craters in Auvergne, France. Blocks of stone are mined in an arduous process using simple hand-held tools, and then cut into slabs to be processed and glazed. Using state-of-the-art technology, skilled engineers imbue the stone with gloriously-hued enamels and fire them at temperatures exceeding 1000° C. The finished masterpiece is incredibly enduring and stunningly beautiful – a product like no other on Earth.
With Pyrolave work surfaces, you don't have to choose between form and function. You can have dramatic design and unprecedented durability. This work-horse of a countertop can withstand almost anything that comes its way – high temperatures, acids, corrosive products. Their tremendous resilience makes Pyrolave surfaces ideal for many different uses, from residential and commercial kitchens to bathrooms, tabletops, swimming pools, fireplace facades, and outdoor living spaces. Perfectly at home in contemporary or traditional settings, the glazed lava stone adds impact and a touch of exotic flair to any décor.
In addition to strength, Pyrolave surfaces are acclaimed for their bold colors. Available in 16 glossy and 16 matte colors, these countertops offer a rainbow of saturated shades that bring an inspired pop of color to a kitchen or bath. Pyrolave designers can also create custom colors to match your interior exactly. And because of the nature of lava stone, it can be sculpted into extra-long lengths without any unsightly seams. This is a tremendous plus and opens the window to nearly unlimited design possibilities.
About Pyrolave
Pyrolave is the world's largest manufacturer of enameled lava stone. Headquartered in France, Pyrolave has studios across the world and has been importing its product line to the United States through J. Pauwels LLC since 1993. Pyrolave pulls its Volvic lava stone by hand from an open air quarry in the Nugere crater in the heart of Auvergne's volcanoes. Using self-taught techniques, skilled craftsmen and engineers shape, color and glaze the stone into a finished product line renowned for its beauty and durability. From London to Dubai to New York, Pyrolave stone has graced exceptional project around the world and can be found in the finest hotels, luxury resorts and remarkable homes.
For more information about Pyrolave, visit http://www.pyrolave.com or call 919-788-8953.
###