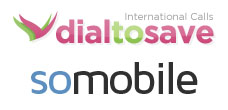 The content now on SoMobile deserved its own home with a relevant name that can be built into a strong brand.
London, UK (PRWEB UK) 13 June 2011
A new brand has been launched to provide news and reviews on mobile phones along with price comparison for mobile phone deals and recycling. SoMobile is a spin off brand from the website DialToSave.
DialToSave was founded in the summer of 2003 by the then school student Richard Cappin, as a way to sell international phone cards online at http://www.dialtosave.co.uk. The website was expanded in October of 2005 to include a selection of mobile phone deals, which was later improved to be a full price comparison service.
These two sides of DialToSave have now been split, allowing for the launch of SoMobile, a UK focussed mobile phone news, reviews and deals website at http://www.somobile.co.uk. Still bearing the same name, DialToSave now returns to its original objective of providing cheap international phone calls from the UK, albeit with a much improved service from when it launched eight years ago.
"This development is very exciting for both these brands," says DialToSave founder Richard Cappin. "The content now on SoMobile deserved its own home with a relevant name that can be built into a strong brand known for great editorial content about the mobile phone industry."
"In the coming months we will continue to introduce additional features to the CreditTalk service on DialToSave that allows UK consumers to call abroad for less from their mobile phone."
In terms of its price comparison feature, SoMobile will be going up against strong competitors such as Moneysupermarket, Recombu and Top10.com. Top10.com was recently purchased by the utility price comparison website uSwitch whose sister company is another mobile phone price comparison website called Omio.
"The focus for SoMobile will be on building a reputation for breaking news in the UK mobile phone market," says Cappin. "This complements the already strong database of mobile phone reviews and price comparison features for both new mobile phone deals and handset recycling."
"Our aim is to support the consumer through their entire online research needs relating to mobile phones, starting with news about upcoming releases, reviews and feature comparison of phones after they're released, price comparison of the deals available and finally a comparison of the money offered by recycling websites for old devices."
# # #