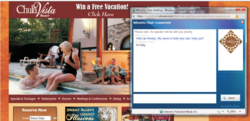 Orlando, FL (PRWEB) June 15, 2011
Located in Wisconsin, Chula Vista is an elite resort, privately owned resort dating back to the 1880s. With 620 guest rooms, 300 villas and condos, this resort is positioned to attract business travellers and conferences with over 80,000 square feet of meeting space and a golf course with driving range.
Chula Vista initially decided on implementing WhosOn Live Chat Software to help reduce contact centre wait times especially during peak season.
Since implementing WhosOn live web chat online bookings increased 5% despite the fact that conversion wasnt the main priority in using chat. More importantly, phone queues were substantially reduced, which translates into better customer service.
Chula Vista has seen an increase in revenues from the use of WhosOn live web chat. As with all travel websites, consumers tend to get stuck in certain areas of the booking engine. The availability of live text-based help makes it possible for consumers to complete their booking without engaging an agent for the full process.
Chula Vista also empowers their agents to negotiate some items to get the booking. With 30 room styles, prices ranging from $100 to $700 and many amenities, the agents work hard to get the experience customers want, within their budget. That ability to negotiate with Live Chat makes it possible and has had an impact on increasing booking revenues.
About Parker Software
Parker Software is an independent software house. Established in 2003 we have offices in the USA and the UK. Parker Software develops innovative software aimed at companies that do business on the web.
Parker Software produces two flagship products: "WhosOn", a tool for monitoring web site visitor activity in real time and live chat and "Email2DB", a tool for integrating incoming emails with business processes.
Parker Software's products are used by thousands of businesses, large and small, in all parts of the world.
Contact
Ian Rowley
ian(at)parker-software(dot)com
http://www.whoson.com
http://www.email2db.com
800 680 7712 Toll Free
###