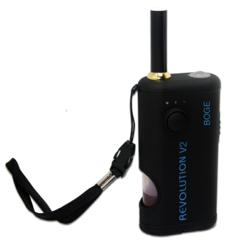 (PRWEB) June 12, 2011
Bogetech recently launched its Revolution V2 Juice Box, broadening their already impressive product line.
The Whole kit includes:
Bottle Liquid supply system
Compatible with 510 Atty/Carto
Atomizer replacement
USB charging / pass-through cable
Build in polymer li-ion battery 1400 mAh
Battery capacity display
ON/OFF button
Key Hanger (Hand Strap)
Kit Comes with:
1 Gift Box
1 Boge Revolution V2
1 USB Charging / Pass-Through Cable
1 Bottle Syringe
1 Carrying Strap
5 Boge 510's Cartomizers (2.7ohm/2.0ohm)
It looks like a "Box Mod", with a compact and innovative design. It feels quite comfortable to hold. "We're proud to offer the Revolution V2. What makes it unique is that the vapor inhaler and e-liquid bottle are supplied together. There's no longer a need to drip once in a while when the flavor in the cartomizers has finished. The 10ml e-liquid bottle is enough to enjoy for extended periods." said by Boge CEO. "The 'Revolution' of the V2 is that it combines the inhaler and Juice box into one simple and effective unit."
In a singular motion, squeezing the left side of the bottle allows the e-liquid to flow into the cartomizer. Designed for comfort and functionality, the natural design places the users fingers in the perfect position to apply pressure to the bottle.
The upgraded battery capacity is 1400 mAh. This represents a significant upgrade in is juice capacity, which relates to a longer lifespan.
With a 510 carto installed inside, it has a standard 510 connection. Now you can freely use any common 510-threaded accessory you like, allowing you to relax and vape anywhere, anytime.
Above the push button is a row of 3 LEDs. They indicate the charging status of battery inside. When charging, the LED shows Red; Dark Green indicates when charging is complete.
The Revolution V2 – It's a wonderful, revolutionary experience
For more information, visit: http://www.bogecig.com
###