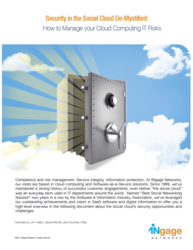 Anyone shopping for cloud services should seek clear, straightforward answers to questions about encryption, security, and availability.
Naples, FL (PRWEB) June 14, 2011
INgage Networks, an award-winning provider of enterprise social software, offers an informative white paper that provides a high-level overview of the risks and myths associated with moving to cloud computing, "Security in the Social Cloud De-Mystified: How to Manage your Cloud Computing IT Risks."
News Facts

Cloud computing is defined as a way to increase capacity or add capabilities via an Internet hosting service, without investing in new infrastructure.
According to TechJournal South, and as cited in the white paper, cloud-computing adoption is growing, with infrastructure spend expected to increase by 26% in 2011.
With an overwhelming majority of enterprises expected to adopt the social cloud, IT professionals face issues such as compliance and risk management, service integrity, and information protection.
High profile outages in the news recently, like those at Sony and Amazon, have brought to light security issues and risks for IT professionals considering moving to the cloud. This white paper, "Security in the Social Cloud De-Mystified," addresses these concerns and provides a 3-step guide for taking precautionary steps, including questions to ask vendors and testing protocol, to ensure their business remains protected.
INgage Networks has managed both private and public cloud infrastructures since 1999 and continues to successfully manage IT risks and compliance standards.
Supporting Resources
About INgage Networks
Established in 1999, INgage Networks is a leading provider of enterprise social software solutions. The company's award-winning platform enables enterprises to create more effective and profitable engagement with their networks of customers, partners and employees. Proven cloud-based solutions combined with an unparalleled commitment to the success of its customers through support and professional services, are just some of the reasons why customers like American Express, ABC News and Michigan State University trust INgage Networks with their business. The company has been honored with some of the software industry's most prestigious awards, including the CODiE Award for the 'best social networking solution' for enterprises. For more information, visit http://www.ingagenetworks.com.
###