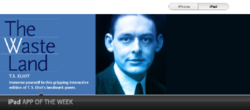 (PRWEB) June 10, 2011
The Waste Land for iPad climbed to the number 1 position in the UK iTunes App Store book category within hours of release on Tuesday 7 June.
In the US, The Waste Land today became Apple's official iPad App of the Week.
The pioneering new digital edition of T. S. Eliot's great poem features a powerful filmed performance of the complete work by acclaimed actress Fiona Shaw (Aunt Petunia in Harry Potter) , as well as readings by Sir Alec Guinness, Ted Hughes, Viggo Mortensen and Eliot himself. The title is co-published by Faber and Touch Press.
Henry Volans, Head of Faber Digital, noted: "It is inspiring to see a poem compete among the top-selling apps and being selected App of the Week is an important and thrilling first for poetry."
The Waste Land for iPad is available for $13.99 (£7.99) from the App Store on iPad or at
http://www.itunes.com/appstore/.
For more information please visit http://www.faber.co.uk and http://www.touchpress.com.
# # #