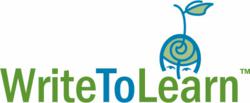 Bloomington, MN (PRWEB) June 10, 2011
Building strong writing and reading skills gives students the foundation for success in school, college and careers. With the launch of the newest version of WriteToLearn, Pearson's award-winning online tool for building writing and reading-comprehension skills, teachers will have an even more powerful tool for helping struggling students, English Language Learners (ELL) and at-risk students to develop critical writing and reading-comprehension abilities.
WriteToLearn offers students an engaging and motivational environment for practicing and refining their writing and reading-comprehension skills. When students develop essay-writing and summarization skills with WriteToLearn, their efforts are measured for the content expressed and the sophistication of their language skills. The reading/writing and revision cycle produces stronger writers and readers. WriteToLearn's automated scoring allows teachers more time for teaching, working with individual students and lesson planning.
The updated release of WriteToLearn features dozens of new informational reading passages in social studies and science taken from Pearson's popular Scott Foresman Reading Street series and designed specifically for English language development. All of the new readings include the popular "Hints" feature, which links to specific tips that emphasize important ideas that students may have missed when reading.
More than 200 new essay prompts for grades 4-12 have also been added to WriteToLearn. Students can write about topics such as community and global issues, accessing the Internet for research. Choosing from the wider variety of topics, they can explore high-interest subjects while improving their overall writing skills. WriteToLearn's essay feedback has been expanded to include annotated sample essays at the elementary level, to provide younger students with better models for improving their writing.
The new reading passages and essay topics debuting in WriteToLearn provide the framework for other enhanced capabilities which will be released in August 2011.
WriteToLearn 7.0 will provide language support for Spanish and Chinese speakers, as well as professional development designed for teachers who work with students of all ability levels, including struggling readers and writers and ELL students.
Schools and districts with current WriteToLearn accounts will receive the update free of charge. WriteToLearn is available for purchase on a concurrent or individual student license basis, with district-level subscriptions now available.
WriteToLearn qualifies for federal funding under the American Recovery and Reinvestment Act. For more information, visit http://www.School.WriteToLearn.net.
About Pearson
Pearson (NYSE:PSO), the global leader in education services, education technology and school solutions, provides innovative print and digital education materials for preK through college, student information systems and learning management systems, teacher professional development, career certification programs, and testing and assessment products that set the standard for the industry. Pearson's other primary businesses include the Financial Times Group and the Penguin Group. For more information, go to http://www.pearsonassessments.com.
For more information, press only:
Adam Gaber, Pearson, 800-745-8489, adam(dot)gaber(at)pearson(dot)com
Lisa Wolfe, L. Wolfe Communications, 773-227-1049, lwolfe(at)lwolfe(dot)com
###