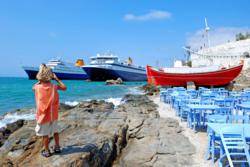 Prices on cruises are incredibly low – in fact, they are more affordable than ever.
- Founder Roy Witman
Yonkers, NY (PRWEB) June 14, 2011
Cruise Vacation Center, a provider of the best cruise deals, recently announced lower than ever prices on all major cruise lines to a number of destinations worldwide. Last minute cruise deals allow people to experience vacations they never thought they could afford. Cruise Vacation Center is a company specializing in discounted vacation packages to Alaska, the Greek Isles, the Caribbean, and more.
These cruise deals make Cruise Vacation Center the destination for planning and booking vacations to exciting and far-off places. In a world where airfare continues to skyrocket, people are looking for more affordable ways to travel. Cruise Vacation Center delivers just that, as cruising takes vacationers where they want to go in style and within budget.
Roy Witman, one of the founders of the company, explains what makes these cruise deals possible saying, "The cruise business, like many other industries, has been hit hard by the recession. As a result, supply is high and demand is low. Therefore, prices on cruises are incredibly low – in fact, they are more affordable than ever."
Cruise Vacation Center has been in business since 1993, and has sent over 250,000 passengers sailing all over the world. The nature of a cruise – with all-inclusive prices and a pre-planned itinerary – makes it perfect for families with children. Satisfied clients have seen everything from the undisturbed wildlife and natural beauty of Alaska to some of Europe's most historic sites. Cruise Vacation Center is proud to continue to make people's vacation dreams come true.
For more information about Cruise Vacation Center, visit CruiseVacationCenter.com, call toll-free at 800-803-7245, or email cruiseinfo(at)cruisevacationcenter(dot)com.
###