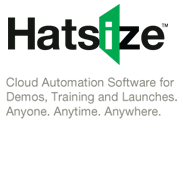 "I was drawn to Hatsize because of the company's outstanding product functionality, global cloud operations and people." said David Howard. "With these elements in place, Hatsize has a tremendous opportunity for growth in the cloud automation market."
Calgary, AB (Canada) (PRWEB) June 16, 2011
Hatsize, the leading cloud automation software provider of hands-on demos and training, today announced that David Howard, CA will join the executive team of the company as Chief Financial Officer, effective June 16, 2011.
David Howard brings more than 15 years experience as the Finance and Accounting leader of six technology companies. Most recently, as Corporate Controller at Elluminate Inc., a training technology company, David played a significant role in their successful acquisition and integration with Blackboard Inc., a U.S. public company.
"With David's appointment, we continue to strengthen Hatsize leadership position in the global cloud automation industry," said Sue Miller, Hatsize CEO. "David's experience with both cloud-based training and the Software as a Service (SaaS) business model provides tremendous leverage as we increase our revenue acceleration and achieve our growth milestones.'
"I was drawn to Hatsize because of the company's outstanding product functionality, global cloud operations and people." said David Howard. "With these elements in place, Hatsize has a tremendous opportunity for growth."
David Howard has a Bachelor's degree in Commerce from the University of Manitoba, is a 15-year member of the Institute of Chartered Accountants of Alberta, and has spoken publicly on numerous financial topics such as "the Pros and Cons of Going Public".
About Hatsize
Hatsize is a leading cloud automation software company that has provided over 2 million hours of cloud-enabled demo and training sessions for the world's most successful technology companies including IBM, Juniper, Sun Microsystems and Symantec.
###