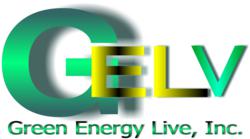 Kailua, HI (PRWEB) June 14, 2011
We are pleased to announce the appointment of Richelle Kim to the position of President and CEO of Green Energy Live, as of February 2, 2011.
GELV has relocated the company headquarters to Kailua Hawaii. GELV believes there are tremendous opportunities for Green Technology in the state.
The Hawai'i Clean Energy Initiative is leading the way in relieving our dependence on oil by setting goals and a roadmap to achieve 70% clean energy by 2030 with 30% from efficiency measures, and 40% coming from locally generated renewable sources. Hawai'i's clean energy goals are the most aggressive in the nation – and if we succeed, we will become a world leader in clean energy. – HawaiiCleanEnergyInitiative.org

These goals exceed those of California and Texas, both with 33% goals
Hawaii is the nation's leader in per-capita photovoltaic solar energy generation
Hawaii grows more corn seed for export than any other state in the United States
Hawaii has the lowest per capita carbon emissions among large cities in developed countries.
Hawaii is the center of major renewable energy sources including biomass, algae, geo-thermal, hydropower/ocean, wind power, and solar/photovoltaic.
In 2010, Green Energy Live was unable to generate sufficient revenues to cover operational expenses and capitalize on the development of other green technology projects, which negatively impacted its stock price.
The Company was unable to obtain adequate financing to acquire Peck Electric and Electrocell, and, as a result, GELV has elected to withdraw its letters of intent. Green Energy hopes to re-establish negotiations with both companies at a later date when financing becomes available.
The financial circumstances of GELV have resulted in delayed filings of its audited financial statement. The Comanche acquisition has not been completed, and we hope to renegotiate our terms in the future and complete the acquisition.
Green Energy Live is still committed to developing green technology for fuel, farming and waste management. Various projects such as bio fuels, organic fertilizer and a patent pending gasification and heat monitoring process will continue to be part of our business model.
Ms. Kim believes that attention should also be focused on other green technologies that can produce revenues much sooner for the company such as solar, wind and hydro.
"We intend to pursue all projects that will generate revenues for GELV now and delay projects that are in early stage development until we have the resources to complete such projects. Though I commend the efforts by my predecessor, too much time and money has been directed towards projects that are not immediate revenue producing ventures."
Ms. Kim has reduced operating expenses and is working on completing audited financials, hoping to re-establish Green Energy as a fully reporting company. "We hope by addressing this issue and implementing other new strategies we will improve the price of our stock for our shareholders."
"We are recommitting ourselves to the mission of Green Energy Live, Inc." says Ms. Kim.
About Green Energy Live (OTC Markets: GELV) Green Energy Live, Inc. is engaged in developing sustainable biomass-to-energy conversion technology to meet a critical need for the nation's $154 billion livestock industry. The company plans to use its proprietary gasification technology for the development of highly innovative, on-site manure-to electricity conversion systems to enable livestock farmers and ranchers to convert their animal waste into clean, renewable energy.
This press release may contain certain forward-looking statements within the meaning of Section 27A of the Securities Act of 1933, as amended, and Section 21E of the Securities Exchange Act of 1934, as amended, that are intended to be covered by the safe harbor created by such sections and other applicable laws. Such forward-looking statements include, without limitation, plans and expectations regarding the development of GELV's gasification technology and other projects and operations. GELV has tried, whenever possible, to identify these forward-looking statements using words such as "anticipates," "believes," "estimates," "expects," "plans," "intends," "potential" and similar expressions. Where the Company expresses or implies an expectation or belief as to future events or results, such expectation or belief is expressed in good faith based upon currently available information, and is believed to have a reasonable basis. However, forward-looking statements are subject to risks, uncertainties and other factors, which could cause actual results to differ materially from future results expressed, projected or implied by such forward-looking statements. Such risks include, but are not limited to: (1) GELV's need for additional financing, which is not assured and which may result in dilution of shareholders; (2) GELV's status as a small company with a limited operating history; and (3) regulatory restrictions in the production of bio-fuels. For a more detailed discussion of such risks and other factors, see the Company's 2009 Annual Report on Form 10-K, filed on April 17, 2010, with the Securities and Exchange Commission, and its other SEC filings. The Company does not undertake any obligation to release publicly revisions to any "forward-looking statement," to reflect events or circumstances after the date of this news release, to update or provide advice in the event of any change, addition or alteration to the information contained in this news release including such forward-looking statement, or to reflect the occurrence of unanticipated events, except as may be required under applicable securities laws.
Contact: Investor Relations: 1-800-557-9572 Ext. 200
Green Energy Live, Inc.
http://www.greenenergylive.com
###