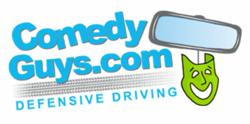 One customer after another has had great things to say about how fun and convenient our online defensive driving course is.
Richardson, TX (PRWEB) June 10, 2011
For the past few months, Comedy Guys Defensive Driving has been polling customers of its online defensive driving course about the effectiveness and enjoyment level of the course. And now the Dallas-based company is ready to announce the results.
"It's been great to see how positive the responses have been to our survey. One customer after another has had great things to say about how fun and convenient our online defensive driving course is, especially with people who want to take the course on their mobile phone," said Comedy Guys co-owner Cash Cooper.
After years of teaching Texas defensive driving classes in person, which allowed the comedians who teach the classes to get immediate feedback from customers. When the company began teaching their entertaining driving safety course online, they were determined to get the same kind of input from their online customers as well.
That is why ComedyGuys.com spent the past few months collecting customer responses to a survey at the end of their online defensive driving course. At the end of the course, customers have the option of taking a survey rating the Comedy Guys course against other online courses. Customers could then leave their own comments regarding the experience of taking the Comedy Guys Defensive Driving course online.
The people of ComedyGuys.com report being a bit overwhelmed by the positive comments so far, especially for the 24/7 customer service. Also, many customers seem particularly to like the convenience of taking the online defensive driving course with their Android phone or iPhone.
"My favorite compliment came from a gentlemen who had recently had back surgery. He was unable to sit at a desk or in a classroom for prolonged periods because he was in pain. He was so happy to be able to take the course with his iPhone while laying in bed," said Comedy Guys co-owner Mark Cooper.
CUSTOMER COMMENTS
Here's a sampling of actual comments left by people having taken the Comedy Guys online defensive driving course.
"The course moves very quickly. It didn't seem like 5 hours at all! It was a great experience, and though I hope to not get a ticket in the near future, I'll certainly be completing the course from Comedy Guys in the event I do." – Lindsey D., Rockwall TX
"This course kept my attention much better than those I've taken in the past." – Jeffrey A., Tuscola TX
"This was a great course. It worked well for my schedule. The guy I spoke with was very friendly and helpful." – Shelly M., Truth or Consequences NM
"I do love the fact that this course was compatible with the iPhone. It allowed for more flexibility. Thank you." – Clarissa W., Houston TX
"Very impressed with the content of the program. Touched all aspects of driving." – Norma M., Allen TX
"Thanks for the help and making it fun and easy. The picture illustrations made it easier to understand." – Muhammad S., Arlington TX
"Thanks for reminding us drivers that there is so much stuff we have to remember and that safety is always the first consideration. – Peggy A., Dallas TX
"Currently Comedy Guys Defensive Driving is at work making their online course even better by adding more fun and entertaining videos."
ABOUT COMEDY GUYS
Comedy Guys is one of the biggest schools for Texas defensive driving courses in the state, offering defensive driving online and teaching defensive driving classes at over thirty locations around the state. Their state certified driving safety course is designed to meet court requirements for ticket dismissal in a fun, entertaining way. Currently, the company is holding their Get Mobile! Giveaway offering three Apple iPads as prizes.
###