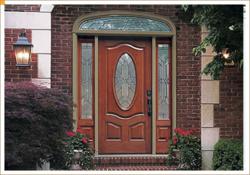 Homeowners should consider the style, size, color and trim of their home when selecting ways to enhance windows and doors. - Rick Jones, Stanek Windows
Cleveland, OH (PRWEB) June 13, 2011
Stanek Windows recommends that for homeowners to increase the value of their house they take a look at ways to make the front entry way stand out since that is the focal point of a house. "The style and color of a front door is vital when creating a welcoming entryway to a home," said Rick Jones, President and CEO of Stanek Windows. "Nearly everyone who visits a home will notice not only the front door but its windows, too. Replacing these items is an investment that will increase the value of the home, help reduce energy bills, reduce maintenance costs, and gives a home a new style that neighbors will admire."
Realtors say that the front door entry is the "first impression" that someone has of a home. A neglected entryway will turn off potential buyers immediately. In some instances, a buyer will look no further if the entrance to a home is in disrepair. The first step is to look at a home in the eyes of a buyer.
Stanek also recommends that homeowners consider the style, size, color and trim of their home when selecting ways to enhance windows and doors. Choosing the right color of window and door trim and matching to the home's exterior façade, whether siding or brick, is key to maximizing complimentary aesthetic appeal of any home. Traditional colors for front doors are usually black or perhaps dark red. Whatever color or style selected, it should flow with the home's décor. "Fiberglass doors are making rich woodgrain colors popular once again as exterior color options due to their incredible resemblance of "real" wood doors, but without the maintenance," said Jones.
When choosing window trim color for a small home, consider painting the edge trim the same color of the house or possibly a shade or two lighter. This will help the home look larger. To highlight the trim in a traditional style, choose either a white or light cream color. Matching the stone or brick grout color is also another option. The key is to avoid selecting too many colors that are not already part of a house color. Always protect the character of your home. Nothing sticks out more than a new window or door that is in a completely different architectural style. Be consistent. Recognize your home's character and stay within its framework.
By adding beauty to a home with new doors and windows, one will no doubt be saving money in reduced heating and cooling bills. Giving a home an updated appearance will often help the resale value of the property. Stanek Windows offers a wide variety of colors and finish choices. Inside windows can be your basic white or beige or consumers can now enjoy the look of real wood colors like oak, cherry or walnut. Exterior colors are available in a variety of colors or can also be customized to match the exterior features of a home. Stanek also features a variety of glass options for the individualistic needs of every homeowner. There is even a glass designed to specifically reduce noise, reduce sunlight, and even act as a heater to keep your home warmer through natural sunlight.
Thanks to the new innovations in windows and doors, replacing these items can change the entire look and feel of every room in a house. Being diligent in efforts to improve the aesthetic appeal of a home will be well worth it with the reward of a satisfying and welcoming home that will undoubtedly increase in value.
About Stanek Windows
Stanek Windows serves Western Florida, Northeast Ohio and South-Eastern Wisconsin with offices in Tampa/Clearwater, Florida, Cleveland, Ohio and Milwaukee, Wisconsin. The company offers a full line of energy-efficient windows, patio doors and exterior doors, as well as, siding, hurricane shutters and gutter systems. All Stanek Windows are independently tested and certified to area building codes, including impact windows for the strongest Florida hurricane-rated codes. For more information, contact Stanek Windows at 800-4-STANEK or visit http://www.StanekWindows.com.
# # #