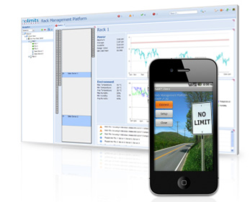 "RaMP combines accurate and detailed information from both IT and facilities equipment to finally give data center managers a unified picture of the entire data center".
St. Louis, MO (PRWEB) June 15, 2011
No Limits Software announces version 1.4 of their Rack Management Platform (RaMP) data center management solution. RaMP combines automated asset management, power and environmental monitoring, automated change management and a data analysis engine to provide recommendations to help data center managers reduce energy usage, reduce mean time to repair and manage their space, power and cooling capacity requirements.
RaMP greatly enhances IT asset accuracy by eliminating most of the manual entry of data. By interrogating individual systems using multiple protocols (including IPMI, iLO, DRAC, RSA, ALOM, WMI, WBEM, SNMP and others), a complete picture of an asset can be quickly developed. This detailed view of the asset includes hardware and software configuration, network connections, virtual machines, services and sensor information. Most importantly, the information is collected automatically, dramatically reducing the collection cost and inaccuracy of manually entered data. It will also eliminate the cost and time to perform an annual physical audit of the systems in the data center.
Version 1.4 provides the following enhancements:
-- Dozens of new reports (in Word, PowerPoint, PDF, Excel or web format)
-- Ability to roll up data into physical or logical groups
-- Enhanced dashboard views at the device and roll-up levels
-- Data analysis to warn of potential outages due to improper redundancy configurations
-- Integration with other DCIM products
-- Enhanced support for blade and storage systems
RaMP provides a different approach to the expensive and inaccurate manual collection of asset information in the data center. The automatic collection of detailed data, particularly at the server level, provides data accuracy which can't be matched with manual data collection. "We can collect accurate, detailed data on thousands of servers and other devices in the data center in minutes, while manual data collection would take months of effort," said David Cole, the president of No Limits Software. "We don't stop there, though. RaMP examines snapshots of the data over time to accurately track all changes made in the data center, even those that are made without going through the change management process. The use of this change data is instrumental in problem resolution, greatly reducing mean time to repair. Finally, this automated data collection process eliminates the need for costly, time-consuming physical audits."
In additon to IT asset management and change control, RaMP also monitors power and other sensor readings on a regular basis, providing data for comprehensive capacity management. While other systems use inaccurate nameplate or derated power values, RaMP uses actual power measurements and proprietary algorithms to accurately calculate power usage at the device level.
No Limits Software is also announcing that it will be extending the offer of special pricing for universities and other educational institutions through the remainder of 2011.
RaMP provides the following capabilities:
Automated Asset Management
-- 100% data accuracy through the automated discovery of detailed device information
-- Automatically track device location down to the rack unit (including zero-U devices)
-- Real-time data center auditing for IT asset accounting compliance (Sarbanes-Oxley, CFR-11)
-- Automated change control to reduce mean time to repair and increase availability
-- Web services API provides integration with other asset and change management systems
Real-Time Monitoring
-- Power and environmental monitoring down to the device level
-- Server monitoring to identify servers which should be retired or consolidated
-- Identify servers which are not using server power management
Enhanced Capacity Planning
-- More accurate capacity planning data helps to reduce stranded power and shutdown risks
About No Limits Software
No Limits Software is a leading provider of data center solutions, including asset management, capacity planning, and power and environmental monitoring. No Limits Software provides a unique solution by taking asset management to the rack unit. The RaMP solution allows you to understand where the device is located, what power is being consumed at the device and rack level, when any physical or logical changes are made to the device and why servers may not be operating in an efficient manner.
The RaMP solution eliminates the need for physical audits, dramatically reduces the time to find and repair equipment, improves system availability and improves data center energy efficiency by providing accurate capacity planning.
###