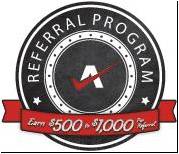 Referrals from engaged and satisfied customers have always been the foundation of our accelerating growth
East Greenbush, NY (PRWEB) June 10, 2011
Looking to reward the loyalty of its fast-growing customer base, Autotask Corporation has earmarked funds to reward its customers who refer other VARS, MSPs, Solution Providers and IT Service Providers to purchase the popular cloud-based IT Business Management software.
Designed to be one of the richest referral programs in the Channel, individuals can receive between $500 and $1000 for each successful referral that they make.
"Referrals from engaged and satisfied customers have always been the foundation of our accelerating growth," said Jay McBain, Sr. VP of Community at Autotask Corporation. "They've not asked for this program, but we want to reward these loyal individuals with more than our sincere thanks and give them a more tangible expression of our appreciation. We expect to add at least 1,000 new businesses to the Autotask Community through this program, and have set aside the funds necessary to administer it."
A decade ago Autotask was the first IT Business Management software built from the ground up to be sold through a SaaS business model, delivered on-demand from the cloud. Since that time, the company has grown to host more users through its cloud platform than any other provider, with customers in more than 50 countries throughout the world.
"Our customers truly are our partners," noted McBain. "Autotask is a unique vendor in the channel, in that we don't ask our customers to resell our product to make money. They depend on our software to run their own businesses, and appreciate the value we bring to them which is why they are so willing to refer us to others."
The new referral program was announced at the Autotask Community Live 2011 event last month in Miami, FL, and officially starts with a kick-off campaign this month.
The company has established a dedicated web page at http://www.autotask.com/referral to make it super quick and easy to participate. All interested parties should visit this site for more details about the program and to make their referrals.
About Autotask Corporation
Autotask Corporation provides the world's leading hosted IT Business Management software built specifically for VARs, MSPs, and other technology solution providers to help them run their businesses better. The software is available on demand to help IT solution providers to sell, implement, deliver and bill their technology products & services.
Autotask® and VARStreet® are registered trademarks of Autotask Corporation. All other trademarks mentioned in this document are the property of their respective owners.
Media Contact: Bob Vogel
bvogel(at)autotask(dot)com
In US: +1.518.720-3500
# # #