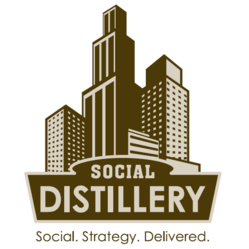 The need for companies to be strategic with their digital communications (is) very important and those doing it well are gaining a competitive advantage
Austin, TX (PRWEB) June 14, 2011
Social Distillery (http://www.socialdistillery.com) announces its launch, June 1, 2011, as a social media marketing agency. Formed by two recent University of Texas Master's of Advertising graduates, with expertise in digital advertising and public relations, the agency will provide social media services including consulting and strategy development, as well as account management and execution. Kristen Sussman and Leigh Pankonien, who while at UT managed the social media marketing and strategy for The University of Texas Advertising and Public Relations Department, will lead the agency. The department was recently ranked by the Fall 2010 edition of the Journal of Advertising Education as the top advertising program in the country.
"Social media includes all online and digital communications, meaning everything from the social networks we all know like Facebook and LinkedIn to blogs, Twitter and other user-generated content such as reviews and wikis," said Kristen Sussman, President and Founder of Social Distillery. "As people increasingly use the Internet for social purposes, the need for companies to be strategic with their digital communications becomes very important and those businesses doing it well are gaining a strong competitive advantage."
Social media is an important part of the marketing mix and there is a great need for social media communications that contribute to a company's inbound marketing. Traditional advertising channels like television or print are becoming less effective. This is resulting in a need for inbound marketing such as social media. According to a recent Hubspot report, organizations that are heavy users of inbound marketing report a cost per lead 62% lower than organizations that are heavy users of outbound marketing. Those that realize the benefits of social media strategy don't always know how to effectively integrate this form of marketing or how to best manage these communications. An agency such as Social Distillery can assist at any point in a company's social media strategy development, from launch to maturity.
Throughout their tenure at UT, Sussman and Vice President, Leigh Pankonien, worked at multiple interactive agencies as well as non-profits to supplement their education. They implemented Spredfast, Social CRM software, to manage the Texas AdGrad social media accounts, where they had two semesters to familiarize themselves with this cutting edge tool. "Our hands-on experience with the Texas AdGrad initiative was the best learning tool we could have asked for. We were able to produce original content and then analyze what worked best. We picked up effective strategy by doing, not by learning second-hand," said Leigh Pankonien. "We connected the dots between driving traffic to UT's Advertising website through our social media publishing and saw how it was reflected in Google Analytics. Our use of enterprise-level CRM software to help manage our social media efforts gave us the time to focus on campaign strategy, contest implementation and connecting with influencers. All of which are extremely necessary skills when managing social media."
About Social Distillery
Combining enterprise class software with an expertise in digital marketing strategy, advertising and public relations, Social Distillery helps companies reach a complete and thorough understanding of what's happening online, specifically within the social media realm. Using smart, strategic planning, companies can now more efficiently reach their consumers, evangelize their successes and effectively increase their product, company and brand life-cycle. Social Distillery helps companies accomplish online visibility in social media by providing content, measurement, analysis, reporting, strategy and consulting. To learn more about Social Distillery visit http://www.socialdistillery.com, follow them on Twitter @SocialDistiller, like them on Facebook or follow them on LinkedIn.
###