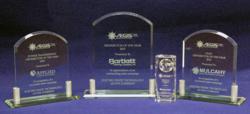 Mechanic Falls, ME (PRWEB) June 13, 2011
Electro Static Technology is pleased to announce the 2010 Distributor of the Year awards. These four awards recognize outstanding sales and superior customer service of AEGIS™ Bearing Protection ring technology.
For the 2nd year in a row, Bartlett Bearing Company is the top winner for their outstanding sales campaign and exceptional customer service to the motor repair market. Bartlett provides expert advice and customer training in solving bearing current issues with AEGIS™ shaft grounding technology.
Bartlett Bearing Company, Inc. is a family-owned, independent distributor of bearings and repair parts for electro-mechanical facilities nationwide. Their product offering has included the AEGIS™ shaft grounding ring technology for six years, ever since the product was introduced to the market. With a wide stock of AEGIS™ rings ready for delivery, usually within one day, all Bartlett Bearing locations including Philadelphia, PA, Gastonia, NC, Hebron, KY and Pelham, AL provide rapid service and delivery of AEGIS™ parts. Bartlett Bearing Company, Inc. is devoted to electro-mechanical repair and is a highly valued resource for turf equipment, press roller repair, industrial user accounts, the printing industry, and OEM's (Original Equipment Manufacturers). Contact sales@bartlettbearing.com or call toll free at 800-523-3382.
In the Power Transmission market, Applied Industrial Technologies, is awarded for their successful selling campaign. Applied has been a National Distributor of AEGIS™ products since 2008. They've sold AEGIS™ technology in several of their target markets including Food, Wastewater, Government, Aggregate, and Pharmaceuticals to name a few. They also developed and instituted a mod shop program where a customer can order an AEGIS™ shaft grounding ring installed on a motor of their choice. Visit the Applied website or contact your local Applied service center.
In the HVAC market, Mulcahy Engineered Fluid Handling and HVAC Solutions, is awarded for their successful selling campaign. Mulcahy has been an AEGIS™ distributor in the HVAC market since 2006. Founded in 1929 and located in Eagan Minnesota, Mulcahy principally serves the heating, air conditioning, and plumbing industries. Their dedicated staff and valuable experience provides their customers with the latest innovations in applied mechanical equipment and systems. Contact Tom Olmschenk, VFD Technical Consultant, tolmschenk@mulcahyco.com or call 651-686-8580.
In the International market, Morgan AM&T, a division of Morgan Crucible, is awarded for their outstanding sales campaign and exceptional customer service. Morgan AM&T has been an exclusive AEGIS™ distributor in Europe and Australia since 2005 and continues to expand worldwide. Their highly trained staff has focused on after market and OEM solutions in many applications such as rail, wind, specialty machines, and HVAC/R. Contact Martin Deiss m.deiss@morgan-rekofa.de or call 49 175 439 58 15.
AEGIS™ technology is designed for use when variable frequency drives (VFDs) are used to control electric motors. The VFD induces destructive voltages on the motor shaft which discharge through the motor bearings or bearings in attached equipment. These discharges cause fusion craters on the bearing race walls. Over time, this can lead to noise, vibration, bearing failure, and catastrophic motor failure.
The AEGIS™ SGR shaft grounding ring channels these harmful VFD-induced shaft currents safely to ground. Unlike conventional grounding brushes, the SGR is maintenance-free and works with virtually no friction or wear for the service life of the motor.
"We rely on our distributors to deliver both expert advice in solving bearing current issues with AEGIS™ technology and exceptional customer service." said Adam Willwerth, EST's Sales and Marketing Manager, "The key to success is having in-depth knowledge of your products and customer needs and offering the right solution."
Electro Static Technology is the global leader in the elimination and/or mitigation of induced electrical charges on rotating and moving surfaces. Electro Static Technology manufactures the patented technology AEGIS™ SGR shaft-grounding ring for the electric motors and generators and is a division of Illinois Tool Works (ITW), a $18 billion diversified manufacturing company with operations in 44 countries.
For more information, contact: Electro Static Technology, 31 Winterbrook Road, Mechanic Falls, ME 04256, Toll-Free: 1-866-738-1857, TEL: (207) 998-5140, FAX: (207) 998-5143, http://www.est-aegis.com.
###