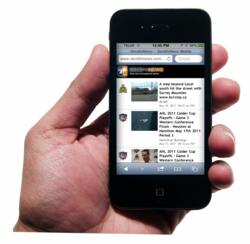 "We've gotten great exposure from SendtoNews," said Swimming Canada's Director of Communications, Martin Richard. "We are excited to be expanding our use of SendtoNews and introducing it to Canada's other aquatic disciplines at the World Championships."
Victoria, B.C. (PRWEB) June 13, 2011
Newsroom content delivery service SendtoNews (http://www.SendtoNews.com) is pleased to announce that Swimming Canada, Diving Canada, Water Polo Canada, and Synchro Canada will be reporting via the SendtoNews platform from the 2011 FINA World Championships in Shanghai, China, July 16–31.http://www.fina.org/H2O
"We are very pleased that all four of the Canadian aquatic sports have selected SendtoNews for the World Championships," said SendtoNews Founder, Keith Wells. "This bi-annual event is an important opportunity to showcase our platform to other sports organizations and to build relationships leading into next year's London Olympics."
Wells, a television sports reporter/anchor for more than 20 years before founding SendtoNews, will be going to Shanghai in person to assist the Canadian teams with their video coverage and distribution. "Also watch for some Shanghai footage to be coming direct from the iPhone," added Wells.
Shanghai will be one of the first large-scale deployments of the newly released mobile app. The app, released April 2011, enables full resolution 720P video to be delivered directly from an iPhone 4 (and soon Android) directly to local, national and international newsrooms at up to 3X faster than normal 3G transfer speed.
One of the four teams heading to Shanghai, Swimming Canada http://www.swimming.ca, has been using SendtoNews to send footage from international events for the past year. During last year's Commonwealth Games in Delhi, TV stations nationwide aired reports using Swimming Canada race footage and interviews downloaded from http://www.SendtoNews.com.
"We've gotten great exposure from SendtoNews," said Swimming Canada's Director of Communications, Martin Richard. "We are excited to be expanding our use of SendtoNews and introducing it to Canada's other aquatic disciplines at the World Championships."
SendtoNews provides a high-speed file transfer platform that uploads digital multimedia content – high-definition video, photos, text and audio – up to 100 times faster than FTP and HTTP. The content goes straight to a user's free SendtoNews.com account, where it can be previewed and downloaded by an unlimited number of media outlets.
For sports organizations, SendtoNews empowers innovative, proactive public relations strategies based on free, direct-to-media distribution of self-generated multimedia content. With SendtoNews, clients can:

Quickly and easily upload multi-media content from anywhere in the world to the cloud, where it can be securely stored and managed.
Simply, quickly and securely connect to reporters, assignment desks and feed rooms all over the world.
Attract media coverage of events where reporters aren't present.
Build and strengthen relationships with media by providing newsrooms with much-needed content.
Enhance the exposure of their sport, athletes and sponsors.
"Our sports clients like that SendtoNews lets them keep in touch with their home media at 'away' events where those media can't attend," said Wells. "Our platform also lets them fine-tune the distribution to target athletes' hometown media and national outlets at the same time."
SendtoNews is fast becoming a fixture at sporting events everywhere. SendtoNews powered the state-of-the-art media distribution system used by more than 1,450 reporters at the British Columbia International Media Centre (BCMC) during the Vancouver 2010 Olympics. Other SendtoNews sports clients include the WHL and AHL, Rugby Canada, Rowing Canada, Speed Skating Canada, the Canadian Professional Golf Tour and the International Triathlon Union.
About SendtoNews
SendtoNews is a conduit between content creators and newsrooms/assignment editors looking for high quality, newsworthy content to use as part of daily programming. SendtoNews offers its clients the opportunity to share their stories (including one or more HD videos, high resolution photos, audio files, etc.) directly with print, television, radio and online newsrooms by uploading them to the Company's cloud-based news story management platform. SendtoNews then automatically optimizes the stories for fast preview and easy use by news editors and tracks usage so clients can monitor their local, national and international media coverage. For more information or to open a free account go to http://www.SendtoNews.com or call toll free 1.855.590.1991.
Media contact:
David Davies
Toll Free 1.855.590.1991
Twitter: @sendtonews
E-mail: david.davies(at)sendtonews(dot)com
###