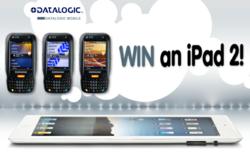 Eugene, OR (PRWEB) June 15, 2011
Datalogic Mobile a worldwide leader in automatic data capture announces the launch of an international contest with a chance to win an iPad 2. The contest runs from June 15th through October 31, 2011.
Datalogic Mobile continues demonstrating its close connection with the web community by offering a fun and interactive contest. Anyone over age 18 with an internet connection from all over the world can participate. The contest can be accessed from Datalogic Mobile's website or the contest website http://www.winipad2datalogicmobile.com. Contestants use the online tools to create a personalized wallpaper for the Datalogic, Elf™ rugged PDA. Entries will be judged on design originality and creativity.
The winner of the contest will receive an iPad 2 (WiFi+3G, 16GB). This new version of the iPad is thinner and lighter making it even easier to hold. It offers a dual-core A5 chip with 10 hours of battery life, various connectivity possibilities and a large, backlit screen. The new iPad 2 also incorporates 2 cameras to be able to make FaceTime video calls, record HD video and much more.
More information and complete instructions and rules for Datalogic Mobile's wallpaper contest can be viewed at: http://www.winipad2datalogicmobile.com
About Datalogic Mobile
Datalogic Mobile, part of the Datalogic Group, is a global manufacturer of mobility solutions for retail applications, self shopping, warehouse solutions, and field-force automation.
Our diverse product range of rugged mobile computers includes pocket-sized computers, pistol grip computers, and industrial PDAs designed to keep workers connected to their enterprise inside or outside the four walls. Our mobile computers use Cisco® Certified CCX radios for maximum levels of RF security, data throughput, and efficiency. Datalogic Mobile computers use the latest technologies for voice and data communications giving mobile workers on-the-go connectivity.
Datalogic Mobile is the worldwide leader in Personal Self Shopping (PSS). Over 350 retail stores have implemented Datalogic Shopevolution™ software and the Datalogic Joya™ handheld pod as their PSS solution. Datalogic gives retailers a competitive advantage while reducing their operational costs. Joya makes shopping a multimedia experience that increases consumer loyalty.
Datalogic Mobile has worldwide presence in over 30 countries and with over 800 business partners worldwide.
See us on the web at http://www.mobile.datalogic.com or call 800-929-7899.
About Datalogic Group
The Datalogic Group is a world-class producer of bar code readers, data collection mobile computers, RFID systems and photoelectric sensors for industrial automation. Datalogic offers innovative solutions for a comprehensive range of industrial applications, in manufacturing, transportation & logistics, and retail industries.
Datalogic S.p.A. employs over 2,000 people worldwide. A leader in technology, Datalogic has a growing portfolio of over 850 patents, 8 research and development centers, and 300 engineers.
# # #