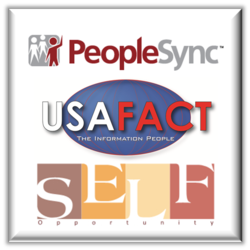 The partnership of PeopleSync, Self Opportunity, and USA FACT brings that trusted partnership to the market in a seamless process. Together, we're committed to supporting a best in class process to deliver the best possible candidate.
Addison, Texas (PRWEB) June 14, 2011
The joint partnership between PeopleSync, Self Opportunity and USA FACT adds a significant new turnkey solution for companies wanting to leverage best in class hiring processes. "Each open requisition is an opportunity to add productive and successful employees to the organization", says Adrian Wood, VP of Business Development, PeopleSync, "but companies need to manage the pipeline of candidates in a cost effective way, and ensure that the individuals recruited are destined for success." According to SHRM and other industry bodies the cost of a bad hire can range from 1 to 5 times their annual salary if you include items such as the total time and effort of HR, advertising, training, and lost productivity. With many companies starting to grow again, the tendency is to hire rapidly to meet demand, but the right tools and partners can be critical in making rapid and accurate hiring decisions.
James Jewell, VP of Business Development, Self Opportunity says "HR is often overwhelmed today with missing or manual processes that prevent them from effective hiring of the right people. They often don't realize that they can outsource the problem with better results and at a lower cost." By leveraging partners who specialize in specific areas of recruiting, growing companies have an opportunity to now develop their recruiting pipeline at the same cost or less than they could budget for internally. Self Opportunity is a partner that specializes in creating custom hiring solutions for its clients.
Employment eligibility is a necessity for most positions, but it's not as simple as it may seem. Keeping up with continually changing employment laws and legislation is challenging. "Background checks are not a commodity", says Matt Davidson, CEO of USA FACT, "Many companies today think of them as a check box, but in reality you're going to give up on accuracy and introduce liability and risk if you get them done quickly at the lowest cost." In addition to 'traditional' types of employee checks, there is now the aspect of the potential employee profile on social media sites such as Facebook and LinkedIn that should be considered.
Behavioral Assessment of candidates is a recognized method of trying to identify the best new employees. PeopleSync offers the Shadowmatch® assessment system which is the most widely used tool for Candidate Context Synchronization. CCS can be specifically used to evaluate a candidate based on their behavior patterns, an area that is typically overlooked by companies. Even though companies manage the evaluation of experience and skills very well, they still hire candidates that never reach the expected level of success in a position. Despite having a perfect background and a spotless history, if their habits and behaviors do not match those of the top performers, their chance of similar success will be low.
Each of these phases of the candidate lifecycle provides significant benefit and cost savings for those companies that manage it effectively. By leveraging a single trusted partnership, companies can take advantage of an end to end process that starts with developing benchmarks of top performers and a recruitment specification, and ends with final interviews and the right person hired. "The partnership of PeopleSync, Self Opportunity, and USA FACT brings that trusted partnership to the market in a seamless process", says Wood, "Together, we're committed to supporting a best in class process to deliver the best possible candidate with the highest prediction of success before a client has even had the first phone interview."
For further details on the partnership, interested parties are invited to attend the webinar overviewing the joint solution.
About PeopleSync
PeopleSync, based in Dallas, Texas provides the unique workforce optimization system called Shadowmatch that allows companies to rapidly optimize their current workforce and enable precision recruitment. The system compares the habits of candidates to the benchmark, and uses this information to predict the success of the candidate prior to placement. This allows companies to find the right candidate for a position every time. The system has many uses beyond recruitment, including leadership identification, succession planning, team building, personal development, conflict resolution, career development and much more. Companies consistently find the Shadowmatch system offers deep and comprehensive capabilities to better hire, manage and develop their workforce.
For more information:
Contact: info(at)peoplesync(dot)com
Phone: 972-588-3365
URL: http://www.peoplesync.com
About Self Opportunity
What began in October 2001 as a "Restaurant Management Career Fair" company, has evolved into a full service independent Recruitment Solutions Company. We listened and learned from our clients regarding their needs for recruitment advertising, talent acquisition and staffing. We chose to develop a whole new set of products and services, and employed the necessary industry experts to assist our clients in the best way possible to enhance their recruiting strategy for their organizational success. We are passionate about making our clients' jobs easier, and positively affecting the bottom line of their recruiting budget. We have our finger on the pulse of recruiting and will constantly give our clients the advice, feedback, and professionalism they have come to expect from the team at Self Opportunity.
For more information:
Phone: 800-594-7036
URL: http://www.selfopportunity.com
About USA Fact
USA FACT is an internet based eRecruiting technology consulting and employment screening provider offering drug testing, employment screening, tenant screening, driver management services, and technology implementation and integration services across HR applications. With customers in industries such as healthcare, government, education, security, financial, insurance, food services/distribution, and transportation, USA FACT is experienced with standardized screening methods for both small and large companies. Our best-in-breed solutions are designed to maximize client workflow via solutions like Fleet Alert Driver Management, Universal and Multi-Purpose eRecruiting Integration Solutions, and New Dynamic Report Formatting
For more information:
Contact: sales(at)usafact(dot)com
Phone: 800-547-0263
URL: http://www.usafact.com/free-employment-screening-consultation.asp
# # #