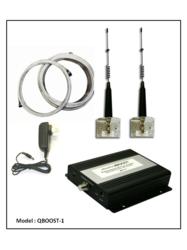 Golden, CO (PRWEB) June 12, 2011
Pixel Technologies Inc (http://www.PixelSatRadio.com), a leading supplier of RF equipment to the Custom Electronic Design and Installation (CEDIA) community announced today the launch of its QuadraBoost line of cellular phone signal boosters designed to improve cellular coverage in homes, offices and commercial buildings.
Doug Talley, CEO of Pixel Technologies, said, "QuadraBoost was developed in partnership with Think Wireless, a highly respected wireless R&D and manufacturing firm. It is designed to improve reception in so called 'cellular dead zones' that despite the best efforts of the cell phone carriers, still occur in many homes and commercial buildings today. It's a dual-band system that's compatible with all cell phone carriers' phones (except Nextel and iDen) in the 850 MHz and 1900 MHz bands."
Dr Argy Petros, head of Think Wireless said, "The QuadraBoost system at a retail price of $299.99 breaks new ground in price vs. performance. It has a system gain of 65 dB, operates at the maximum power permitted by the FCC and typically covers an area of 5,600 square feet. Other boosters in this price range cover less than 3,000 square feet."
The QuadraBoost kit includes a bi-directional amplifier, an indoor antenna, an outdoor antenna, 75 feet and 15 feet of low-loss cable. It is FCC approved and includes special patent-pending circuitry to prevent interference to nearby cell phone towers. The company said it is now shipping the first model (QBOOST-1) and also expects to offer other versions that will be available later this year.
About Pixel Technologies, Inc
Founded by Doug Talley in 2001, the co –inventor of one of the first cordless telephones (Patent 4,039,760), Pixel Technologies is a leading supplier of high-end RF signal distribution accessories to the Custom Electronic Design & Installation community (CEDIA). Located in Golden, Colorado, the Company designs and manufactures very high performance RF distribution accessories for use in homes, multi-dwelling units and commercial buildings. Its products have wide application for reception and distribution of Cellular Telephone, Satellite Radio, AM/ FM, HD radio, Shortwave radio and TV.
About Think Wireless
Founded by Dr Argy Petros in 2003, Think Wireless specializes in the development and manufacturing of wireless devices and antennas. Dr. Petros is a senior member of the Institute of Electrical and Electronic Engineers and has been inducted into the NASA Space Technology Hall of Fame. He has been awarded 22 patents with several others pending and has a long history of innovative wireless product development for such companies and Motorola and XM Satellite Radio. The company is located in Coconut Creek, Florida.
MEDIA CONTACTS
Krystle Willey, Pixel Technologies, 303-526-1965, e-mail: krystle(at)pixelsatradio(dot)com
Argy Petros, Think Wireless, 954- 977-4470, e-mail: argy(dot)petros(at)thinkwireless(dot)com
###