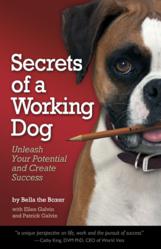 "Delightful and insightful, Bella's pearls of wisdom will entertain while imparting more than a few valuable lessons." – Publishers Weekly
Portland, OR (PRWEB) June 14, 2011
Can thinking like a dog help overworked and overstressed humans live more enjoyable and successful lives? Yes, according to the book Secrets of a Working Dog: Unleash Your Potential and Create Success (Joseph Rudolph Publishers, 2011).
Written from the perspective of an opinionated and slightly mischievous boxer named Bella, Secrets of a Working Dog is for anyone who seeks straightforward and simple advice on how to balance the responsibilities and challenges of modern life and still have fun.
With help from her co-authors Ellen Galvin and Patrick Galvin, Bella blends wit and wisdom with good old-fashioned canine intuition to create an easy yet powerful read that takes humans on a walk of self-discovery.
"Bella's been giving us unsolicited advice for years," says Ellen Galvin, Bella's co-author. "It was time to share her wisdom with everyone else who is struggling to stay sane and balanced in our fast-paced, hyper-connected world."
The book contains contemporary case studies and interviews with successful, dog-friendly individuals and organizations across the country. Readers will learn how to:

Make happiness happen
Stay focused in a multitasking environment
Connect with coworkers, colleagues or customers
Shake off setbacks and pursue their dreams
Step up as leader of the pack
Show appreciation that builds long-lasting relationships
Live fully while balancing work and play
"Delightful and insightful, Bella's pearls of wisdom will entertain while imparting more than a few valuable lessons." – Publishers Weekly
"An excellent and highly recommended resource for anyone who wants to succeed in life and in the business world." – Midwest Book Review
About the Authors
Bella the Boxer is the director of goodwill (D.O.G.) at Galvin Communications, a word of mouth marketing firm in Portland, Oregon. Ellen Galvin is the company's chief wordsmith who shares Bella's wisdom in radio, TV and print interviews. Patrick Galvin is a professional speaker who entertains and educates audiences with Bella's insights through keynotes, breakout sessions and webinars. More information is at http://www.BellaTheBoxer.com
Secrets of a Working Dog: Unleash Your Potential and Create Success
ISBN: 978-0-9828680-3-4 (Trade Paper, $19.95, 192 pp.)
eBook ISBN: 978-0-9828680-4-1
Joseph Rudolph Publishers, 2011
Available at Amazon, Barnes & Noble, http://www.BellaTheBoxer.com
###