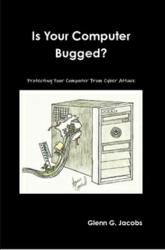 "Every time you sit down at your computer, you enter the battle space portion of cyberspace, and you're in there with everybody else who's using it, which includes U.S. and foreign criminals, hackers and nation states."
- Vice Adm. H. Starling
(PRWEB) June 12, 2011
Intended for the computer-literate (non-programmer, non-IT staff) home and small business User, the book provides a source of "how-to" basic techniques for making personal computers resistant to cyber attack.
Sample topic discussed within "Is Your Computer Bugged? -- Protecting Your Computer From Cyber Attack"

Wireless Internet (Wi-Fi) is a Security Risk ! How to minimize WiFi risk.
Wireless Internet ("Wireless Fidelity", or "Wi-Fi") is a popular system for granting wireless Internet access to laptop and other PCs using radio waves for distances of up to 300-800 feet. Wi-Fi systems are now used in a great number of people's homes and businesses because of the convenience and cost reduction resulting from not having to run Internet cables all through the building.
Usage of improperly configured Wi-Fi networks can lead to sensitive data being compromised.
Personal Data Loss is the most prominent risk associated with unprotected (improperly configured) Wi-Fi networks. If you use an unprotected Wi-Fi network the following may happen:

Your email and "chat" messages may be intercepted
Your usernames and passwords for financial and other websites may be intercepted
Your website transactions may also be intercepted, ie, financial / medical and others
Financial Loss often follows the loss of personal data. The theft of credit card, banking, and investment accounts is the primary goal of almost all cybercriminals.

Routers and Firewalls: How to configure them to maximize your computer's security.
Stopping Malware: Virus, Worms, Trojans, Rootkits, "Spyware", & "Botnet sleepers".
Browser and Web Surfing Security.
ABOUT THE AUTHOR: Glenn Jacobs holds a Bachelor of Science in Electronic Engineering (BSEE) from NJIT. He has 35 years of experience in commercial/military data communications and signal processing applications, in addition to the development of secure websites and their online databases.
Mr. Jacobs provides Wireless Internet ("Wi-Fi") security configuration to assist in preventing Computer Network Attack. He also provides computer network security evaluation and vulnerability assessment, as well as intrusion detection and remote/on-site penetration testing.
###