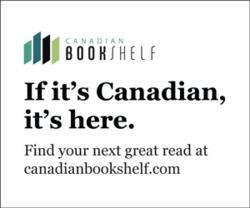 Our goal is to make it easier for readers of all kinds to discover Canadian books.
Toronto, ON (PRWEB) June 14, 2011
Canadian Bookshelf is a new online book community that hosts the largest publicly available collection of Canadian books and authors ever assembled, from graphic novels to cookbooks to short story collections to the latest biographies, children's books and more.
There are nearly 700,000 books available for sale in English Canada, the majority of which are imported from the US and the UK. Many readers want to be able to find Canadian books more easily and Canadian Bookshelf's unique focus makes it easier to find that next great Canadian read.
"Readers have a vast selection of books to choose from but not all are equally visible in today's crowded marketplace," says Beth Bruder, vice-president of Dundurn Press and chair of the project steering committee for the Association of Canadian Publishers. "Our goal is to make it easier for readers of all kinds to discover Canadian books."
Readers, librarians and educators can use Canadian Bookshelf to browse and search for Canadian books and authors, create reading lists and connect with other book lovers.
The site features a wealth of original content, including author interviews, guest columns, and other posts pointing readers toward the best Canadian books have to offer. Readers will also find contests and a range of interactive features, including a literary events map, video, and podcasts.
"We're going to create some new ways for readers to explore the world of Canadian books," says Julie Wilson, the site's Host and Producer. "In the process, we want to open the site up to libraries, booksellers, festival organizers, and the many others that help connect Canadian authors and readers. There are a lot of great stories out there and we hope Canadian Bookshelf can help shine a light on some of the great work that is being done to support Canadian books from coast to coast."
To mark the launch of the website, Canadian Bookshelf is running "The Cover Shuffle Challenge" that asks, "How well do you know Canadian books?"
Participants have six minutes to enter in the correct titles for 24 different Canadian book covers, assisted by clues and the option to search the site for the correct answers.
Take the challenge here: http://canadianbookshelf.com/covershuffle and share your score on Facebook or Twitter.
**About Canadian Bookshelf**
Find your next great Canadian read at Canadian Bookshelf.
Think of us as an evolving virtual library-meets-community-bookstore stocked with more great books than you could ever get through in a lifetime. Canadian books—by authors both world-renowned and up-and-coming, writing in every genre.
We'd supply the hammock and sunscreen if we could. We can't. But we can promise that you're going to have fun. You're going to find books you'll never forget, meet people whose reading lists and reviews you'll admire, and learn more about the authors who intrigue you.
If it's Canadian, it's here.
http://www.canadianbookshelf.com/
Canadian Bookshelf is produced by the Association of Canadian Publishers in association with the Canadian Publishers' Council with funding from the Department of Canadian Heritage and the Ontario Media Development Corporation.
###