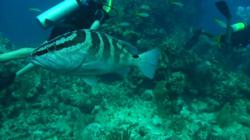 (PRWEB) June 12, 2011
There is a new way to explore The Bahamas: Conch Salad TV http://www.conchsaladtv.com Conch Salad TV provides the first online video magazine for visitors and Bahamians. While most websites cover current events, where to stay and what to do, Conch Salad TV will go off the beaten path and dive into the culture, natural beauty and national issues of The Bahamas.
Every two weeks a different video will be posted on the site, while the previous videos will continue to be accessible through the archive section of the website. Each video will look at a different aspect of The Bahamas.
Launched on Decemeber 1, 2010 popular videos thus far have included the series The Great Conch Race http://www.conchsaladtv.com/the-great-conch-race-3/, which matches up conch cleaners from around The Bahamas to see who can clean a conch the fastest; an underwater dive at Fowl Cay National Park, and Steven Burrows, An Artist Profile. Conch Salad TV is currently featuring Caves of The Bahamas http://www.conchsaladtv.com/caves-of-the-bahamas/ .
The website aims to cover a variety of topics, from historical, cultural, and national issues to diving under the water to interact with our diverse marine life all with a sense of humor. By visiting the site you can explore the history and culture of these islands. Other upcoming topics include: Lighthouses of The Bahamas, a visit up close and personal with the Abaco Parrots, the new Fowl Cay Marine Park and a look at wooden boat building.
If you've been to The Bahamas or thought about going, Conch Salad TV is a great way to experience a whole new side of this beautiful nation.
###