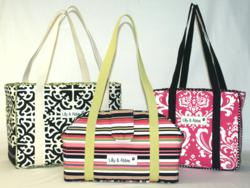 "My bag is beautiful. It is perfect to bring to work everyday."

"We absolutely love them!!! So excited to have a Lilly and Abbie original!"
Melrose, MA (PRWEB) June 14, 2011
First, Lilly & Abbie made sure everyone's pets slept in style – but with over 100 fashionable fabrics to offer and their signature hand made artistry, it's no wonder that they've expanded their reach to include a line of new handbags. Ideal for pet lovers and fashionistas alike, Lilly & Abbie custom couture carriers and tantalizing totes are some of the haute-est new handbags of summer and beyond.
How To Build A Custom Lilly & Abbie Bag
Lilly & Abbie custom bags are made using the same 100+ vibrant and expressive fabrics that made their dog bed line famous. To build a new custom hand made carrier or tote, simply visit LillyandAbbieDogBeds.com and click on the "Custom Bags" tag across the top navigation. Next, choose one of the 3 styles – dog carrier, small or large tote. From there, choose among over 100 styles of fabric to make up the bag itself, the piping and the lining and among seven fabrics for the bag's handle. Voila! A truly one of a kind custom bag is born!
Make A Vibrant New Large Tote Bag For $110!
Whether for work or for play, for the beach or for school, this large custom tote bag is great for schlepping just about everything. The large tote measures 17" (L) x 6.5" (W) x 12.5" (H) with a 12" handle and also features an inside pocket, a spring clasp on the inside and a removable inner mat for easy laundering.
Design A One Of A Kind Small Tote Bag For $95!
This custom Lilly & Abbie tote measures 13" (L) x 4.75" (W) x 12" (H) with a 13" handle, an inside pocket, a spring clasp on the inside of the bag and a convenient removable mat on the bottom for easy laundering.
Create An Adorable Pet Carrier For Just $95!
This sweet and sassy pet carrier is perfect for any small dog and measures 15" (L) x 6" (W) x 10" (H) with a 14" handle, inside pocket, spring clasp on the inside of the bag, a magnetic clasp and a removable mat in the bottom for easy laundering.
About Lilly & Abbie:
Based just outside of Boston, MA, Lilly & Abbie services a worldwide clientele in search of custom-made dog beds and accessories, including their new line of gorgeous custom bags. Owned by Michelle Lessing, the company is lovingly named for her two Black Labrador Retrievers. A true pet lover, Michelle combined her role as dog owner, and her experience as a custom window treatment designer, to create this one of a kind company for fashion conscious people and pet parents.
For more information on Lilly & Abbie and their new custom bag line, visit:
http://lillyandabbiedogbeds.com/custom_bags.html
###