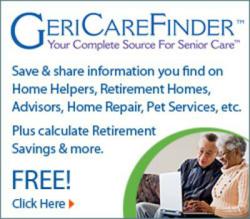 Los Angeles, CA (PRWEB) June 13, 2011
A panel of 39 experts from The Health Information Resource Center reviewed over 500 entries for the 13th Annual Web Health Awards and bestowed their Silver award to GeriCareFinder.com for the best web-based resource tool. "We're proud to once again be recognized as the leader in the online senior care community," said Ron Kustek, President of GeriCareFinder.com, Inc.
As the first Baby Boomers turn 65 in 2011, this aging population is also causing a significant impact on nearly 40 percent of the U.S. workforce, which is now being challenged on a daily basis with caring for an aging parent. The good news is that time-strapped, responsibility-burdened adults now have an even better solution which helps rescue them from the stress and complexity of finding elder care: The new and improved, multi-award winning GeriCareFinder.com.
"When you find yourself caring for parents that once were your caregivers you're faced with an overwhelming responsibility full of decisions. You just want to do the right thing. We've redesigned our business, now making it even easier to understand and locally find every kind senior care you need," said Ronald Kustek, President of GeriCareFinder, Inc. "We understand the challenges of working daily while also trying to learn about, and then find the right care for an aging parent or loved one."
Now with nearly 75,000 businesses to choose from, GeriCareFinder.com has added another free service for site visitors -- the ability to request even more elder care business options, within the site's nearly 70 senior care categories. Telephone support has been added to accommodate those consumers who feel more comfortable speaking directly to a person regarding the type of care they're looking for. Finally, any senior care business can now securely and easily self-list itself on GeriCareFinder.com. These interactive features build upon the site's simplicity of navigation and clarity of information, further enhancing GeriCareFinder.com as the most complete source for senior care in the world.
"By 2030 the 65+ segment will be twice as large as it was in 2001, growing from 35 to 72 million people, representing nearly 20 percent of the total U.S. population. We at GeriCareFinder.com are growing and changing even faster, especially by anticipating the needs of those new to the often confusing and stressful world of senior care," said Kustek.
The multi-award winning GeriCareFinder.com is full of easily organized information like helpful articles plus various free, interactive on-line tools such as financial calculators, a care assessment tool, and especially their proprietary MyGeriCareWorkspace TM. This last feature allows family members separated by geography, to post and share messages to help make informed decisions about home care providers, elder care services or retirement financial planning. Basically, this one source provides everything needed to know how to care for a senior, and provides the necessary tools to make informed care decisions.
GeriCareFinder.com is the Internet's first and only one stop information and elder care locating service where people who are overwhelmed and uneducated about the complicated world of senior care can go to become knowledgeable, and to find relevant, local senior care businesses that can help them with their needs.
This press release was distributed through PR Web by Human Resources Marketer (SeniorCare Marketer: http://www.seniorcaremarketer.com) on behalf of the company listed above.
# # #