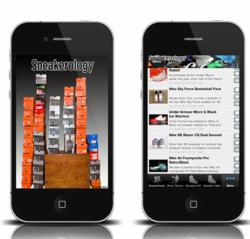 Sneakerolgy is the first app of its kind. "We are excited to be able to bring users an app which gives users a 'sneak' preview of what's to come with their favorite shoe brand
Los Angeles, CA (PRWEB) June 22, 2011
Sneakerology, a Los Angeles-based company is set to launch its mobile phone application via iPhone on June 22, 2011. Sneakerology will offer users first- hand knowledge of new releases, reviews and the latest news regarding their favorite sneaker brand.
Sneakerology is a unique app which will allow users up-to-the-minute updates on upcoming releases, daily news and video reviews about their favorite sneaker brands like Nike, Jordans, Reebok, Supra, Pumpa, Converse and much more. The app offers a great way to communicate with other sneaker 'gurus' through it's built-in social network called Socialize that users can share through Facebook, Twitter, LinkedIn and YouTube for forum discussions and blogs
Highlights include:
✓ Built-in icons taken from real sneakers
✓ Video reviews on the hottest new sneakers
✓ Tutorials on how to clean and bring old sneakers back to life…
✓ Plus, release dates for new kicks
✓ Daily news on sneaker events, sneaker parties and much more
✓Share sneaker finds through networks such as Twitter and Facebook or email
✓Stay connected to the biggest mobile sneaker community network in the world
✓Like and comment on articles, blog posts, images and videos
✓Follow the activity stream of other users within the app
Sneakerolgy is the first app of its kind. "We are excited to be able to bring users an app which gives users a 'sneak' preview of what's to come with their favorite shoe brand," explains Troy Wooten, Founder and President of Wooten Technology. "It is our goal to stay a step ahead and provide the best and most informative information to our users regarding the latest sneaker news.
The Sneakerology app can be downloaded from itunes for a limited time at an introductory price of $1.99 right to their iphones. Other features that are included in the app are Video Tutorials on sneaker restoration and built-in icons of your favorite brand.
To learn more about Sneakerology, visit the web site at http://www.thesneakerapp.com. For media inquiries, contact L Group PR at lgrouppr(at)gmail(dot)com.
###