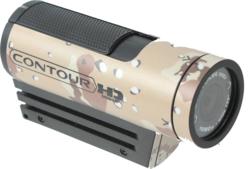 ..developed by Skyway in response to demand from combat troops and law enforcement who wanted to alter the finsh of the stock camera
Malvern, PA (PRWEB) June 14, 2011
Skyway International Inc announces global June 2011 availability of fourteen different high-technology custom skins for Contour cameras. These are the first products of this type available for the hugely successful ContourHD and ContourGPS wearable high-definition video cameras, and are made entirely in the USA.
These products were originally developed by Skyway International in response to demand from combat troops and law enforcement users who wanted to alter the finish of the stock camera to suit tactical conditions. As a result, the company developed versions in a matte finish in black, olive drab and US-pattern desert camouflage with low contrast markings. During the development process, the need was also identified for skins for non-tactical users, and a gloss red, yellow, blue and white version was added to the product line up. This allows users to personalize their cameras while protecting them, and allowing them to match helmets and other gear. The high visibility yellow has been well received by marine and scuba users.
In response to military and tactical requirements, the skins are manufactured from a highly durable material, substantially exceeding the original specifications. They are not affected by temperature (-40F to +176F), are stable and not affected by fresh water or seawater. The material can be removed from the camera easily and leaves no residue, but has an extremely high adhesion rate of 4.1lbs/in. They are also ASTM E 84-07 Class A fire rated.
Distributors, dealers and channel partners should contact sales(at)skywayint(dot)com for further information, or download the data sheet from http://www.skywayint.com.
# # #