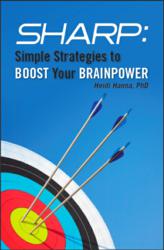 The "fitter" the brain is, the more energy efficient it becomes, and the easier it is to do important mental tasks such as focusing attention and being creative.
(PRWEB) June 13, 2011
Dr. Heidi Hanna's new book entitled SHARP: Simple Strategies to Boost Your Brainpower (Synergy, June 2011), focuses on topics such as nutrition, fitness, and performance psychology to provide a common sense approach to understanding the concepts of brain health and mental training for improved health, happiness, and performance. Dr. Hanna brings the same personal passion to SHARP that has made her a successful performance coach and keynote speaker for the past decade.
In SHARP: Simple Strategies to Boost Your Brainpower, readers will:

Understand how the demands on your time and energy impact your mental capacity.
Learn the critical components of brain health that provide a foundation for improved cognitive functioning.
Utilize the power of brain training to stimulate mental energy with exercises that improve learning in areas that have the most impact on performance.
Create an actionable plan for implementing a sustainable brain health and training program that can be applied to your everyday life.
Matters of the Mind
The constant state of busyness that we live in has created a chronic level of stress on our brain – so toxic, in fact, that experts believe more than 75% of medical visits are stress related. Honestly, most of us are too busy to notice, and will not realize the devastating impact of stress on our lives until it takes a serious toll on our health, happiness, or performance.
Stress is literally making us sicker. Constant distractions and lack of focus causes us to multitask, a dangerous result when we look at things like driving and texting. Busyness also has harmful effects when it comes to our relationships, as people are constantly using what Dr. Hanna calls subtle insults – sending the very quiet message that what I'm doing right now is more important, so I cannot give you my full attention.
What's more, research suggests that our mental abilities such as judgment, reasoning, memory, learning, and language, begin to decline in healthy, educated adults when they're in their 20's and 30's. As baby boomers start to turn 65, the risk of Alzheimer's disease for this group increases significantly. By the age of 85, the risk is basically a coin toss.
We Have More Control Than We Think
Scientists used to believe our brain was hardwired to function in a very specific way. But new research and the ability to use scanning technology shows that the brain is actually radically adaptable if we train it appropriately – like we do our bodies. The brain is part of the body, after all, but it is also the control center of our entire life. It is the "hardware" of our operating system, while our mind and our mental abilities are the "software", or programming, that runs our system. According to Dr. Hanna, we are all in need of an upgrade.
The "fitter" our brain is, the more energy efficient it becomes, and the easier it is to do important mental tasks such as focusing attention and being creative.
Dr. Hanna wrote SHARP: Simple Strategies to Boost Your Brainpower to provide tools to enhance focused attention and creativity, while improving health and happiness. These same strategies help develop healthy brain functioning throughout the aging process, potentially delaying the onset of cognitive decline, dementia, and even Alzheimer's disease. In order to keep concepts simple, and applicable, Hanna walks you through a 7-step process to becoming, and staying, SHARP.
About Dr. Heidi Hanna
As a global performance coach and keynote speaker, Dr. Hanna has trained thousands of professionals on the role of nutrition and exercise for increased productivity, engagement and performance. Dr. Hanna is CEO and founder of SYNERGY, a coaching and consulting company that specializes in customized health and wellness solutions for individuals and organizations. She has been featured at many national conferences, including the Fortune Magazine Most Successful Women in Business Summit and the ESPN Women's Leadership Summit. Dr. Hanna specializes in incorporating the psychology of behavior in the development of sustainable wellness strategies. Her vast coaching experience and passionate coaching style help motivate leaders to make systemic lifestyle changes and create company-wide strategies to support health and engagement initiatives.
Sample interview questions and full Q&A available upon request. Press kit and complete author bio available online.
# # #